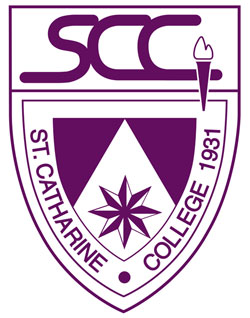 By Marnie McAllister, Record Editor
SPRINGFIELD, Ky. — A sense of loss surrounds the Washington County community where St. Catharine College laid its roots 85 years ago on verdant rolling hills of farmland and pasture.
St. Catharine is set to close on July 31 and its closure, neighbors, alumni and friends of the school say, will be felt in the community.
The college sits amid the campus of the Dominican Sisters of Peace and has educated thousands of students since 1931. The sisters, who still sponsor the college, educated thousands more in the century before that.
This hub of education in Springfield, Ky., hosted an enrollment of about 600 students in recent years and employed 118 full-time faculty and staff.
John Graves, a graduate and long-time volunteer at St. Catharine, can see the school from his home two miles away. It's permeated every part of his life. His parents graduated from St. Catharine and his mother worked there when he was a child. He recalls shooting baskets there while his mom was working. For the last nine years, he's served as a volunteer announcer for basketball games at the college.
"My kids have grown up knowing that something Dad does is go to volunteer at the college. They know everyone around there," he said. "It's been a fabric of the community for so many years. Not having the ballgames and the students out there is going to make a tremendous difference."
Graves added that the school is more than "a collection of buildings."
"It has been home for not only a multitude of students … but it's home to the people who are here, especially the Catholic community. The sisters have done a great job in education for the last 200 years," he said.
Tom Bystrek, who worked at the school for 15 years in several roles — most recently as athletic director — said the closure is on everyone's mind.
"It's a topic of conversation anywhere you go — in the stores, in the barber shop. It's a hot topic," he said in a phone interview about the school last month. "The general feeling is just sadness. You have a property out there that since 1822 has done some kind of education. To see that disappear brings an overall sadness."
Bystrek also noted that St. Catharine has enriched the community in a variety of ways.
"There were so many first-generation college students there," he said. "It served the need locally that was really valuable for a
long, long time."
It also brought the wider world to the area, he said.
"As sports expanded, we went to a greater recruiting base. In the last few years we had numerous people from California, Arizona. People would say, how do these kids from California, New York, New Jersey know about St. Catharine? It was really the coaches' recruiting. Even international kids.
"The quality of life is better with a college," he added. "Guest speakers, authors — things that go with a college — add so much to a community."
Mary Ezaizat, who would have been a senior at St. Catharine this fall, said she feels as though she's lost a home and family.
" 'It's not just a college, it's home.' That was written on all our brochures," she said. "I don't think a lot of people know how true that was. It was a second home to a lot of us. Now, all the connections I made, all that work and fun times are over."
Ezaizat, who comes from Garrard County, Ky., played soccer at St. Catharine, but decided to sit out next season when she starts attending Midway College. Instead, she said, she plans to graduate early — in December.
"They gave me the opportunity (to play)," she said. "But I decided I just want to finish after all this."
By this time next year, Ezaizat hopes to have begun her career as an elementary school teacher. And she's grateful for the role her St. Catharine professors, especially the Dominican Sisters, played in preparing her, she said.
"Sister Mary Louise Edwards would walk by and say, 'There goes another future teacher,' " Ezaizat said. "Sister Angela Shaughnessy was always willing to help me with anything I needed. We talk on Facebook all the time. I only had her for one semester, but I feel like I made a lifelong friend."