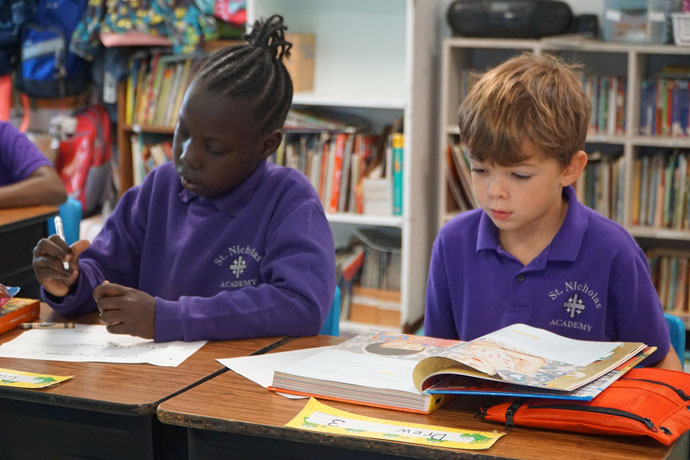 By Jessica Able, Record Staff Writer
The fall semester at Catholic elementary schools in the Archdiocese of Louisville is in full swing and for the third consecutive year since the introduction of the Catholic Elementary School Plan, tuition assistance totals continue to rise.
The amount of tuition assistance totaled an all-time high of $6.5 million, an increase of 12 percent from last year's previous record of $5.8 million. The number of students who received awards also rose by 300 to a new high of 3,000, an increase of 11 percent from last year's record of 2,700 students, according to a press release from the Archdiocese of Louisville and the Catholic Education Foundation (CEF).
The Catholic Elementary School Plan — a joint effort of the archdiocese, its parishes and the CEF — was introduced in 2014 and seeks to increase accessibility of Catholic schools to families who desire a Catholic education by providing financial assistance.
Since the school plan was introduced in November 2014, tuition assistance awards have increased by nearly $5 million. Tuition
assistance totaled just $1.7 million for the 2014-2015 school year.
Also for the third year in a row, every family who demonstrated financial need received tuition assistance.
One school that received a significant boost from the CEF, the archdiocese and its funding partners was St. Nicholas Academy, 5501 New Cut Road.
Eighty-four families at St. Nicholas — or 43 percent of families — receive tuition aid.
St. Nicholas is a regional school created by the merger of Most Blessed Sacrament, Our Lady of Mount Carmel, Sts. Simon & Jude and St. Thomas More schools.
For the first time since the school opened in 2005, the enrollment did not decrease this year, said Kathy DeLozier, principal of St. Nicholas.
Continued assistance "has stabilized families to be able to plan from year-to-year and it also allows teachers to be able to plan to have a job," she said.
The school in South Louisville has a total enrollment of 334 students from 197 families in prekindergarten through eighth-grade.
Richard A. Lechleiter, CEF president, said the record tuition assistance totals "speaks volumes" about the value of Catholic education.
"That's a really aggressive growth level. It speaks volumes about how important Catholic education is to the future of our kids," he said.
Lechleiter said another reason to rejoice is the average award package per student stayed about the same.
As the CEF looks to next year's goal, Lechleiter said the foundation hopes to grow the number of kids assisted by about 10 percent.
"That would require an increase of about $600,000 to $700,000 above this year's $6.5 million," he said. "That will be a real challenge for us but I really believe in both the ability to do this and the desire to do it on the part of our donors."
"I can't say enough about the generosity of the donors and the expanding donor base that we are achieving; we're incredibly grateful," Lechleiter said.
The Archdiocese of Louisville sponsors 40 elementary schools in central Kentucky with 13,500 students. While the total enrollment of students across the archdiocese stayed about the same, Leisa Schulz, superintendent of Catholic schools, said early indications show an increase in preschool numbers.
There are also nine Catholic high schools in the archdiocese with about 6,000 students.
Archbishop Joseph E. Kurtz expressed his "gratitude" to the parishes and pastors of the archdiocese in the statement.
"The selfless generosity of all 110 Catholic parishes and their pastors across central Kentucky to support the education of our young people is so meaningful to the future of Christ's Church.
"These parish communities will combine to provide over $1 million annually to ensure that a Catholic school is accessible to families who yearn for this gift but cannot afford it."
A breakdown in funding shows the 110 parishes of the archdiocese provided $1.7 million. Adding to that total is $1.3 million from the archdiocese and $3.2 million from the CEF. Another $300,000 was provided by School Choice Scholarships, a private organization, and the Community Catholic Center, which helps students in Louisville's West End attend Catholic schools.