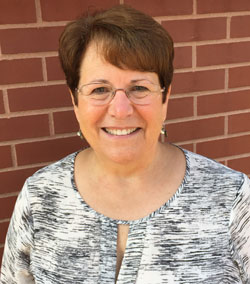 By Jessica Able, Record Staff Writer
Sister of Charity of Nazareth Christine Beckett will step down as president of Presentation Academy effective Sept. 1. Sister Beckett has led the all-girls' school since 2006.
Her retirement announcement comes as the school prepares to expand and improve its downtown campus, according to a press release from the school.
While specific plans have not yet been announced, Sister Beckett said during a phone interview May 30, "Pres is on the verge of expanding her downtown campus, including educational, athletic and co-curricular programs. It's the perfect time for the board to secure new leadership for Pres."
Barbara Wine, Presentation's principal, will serve as interim president until a new president is named. A search committee is being formed, according to
the press release from the school.
Sister Beckett described her time at Presentation as "one of the best experiences of mission and ministry" of her life.
"What an honor and a privilege it has been as a Sister of Charity of Nazareth to lead the school at this time in her history," she said.
Wine called Sister Beckett a "visionary" and touted her leadership abilities.
"Pres is deeply thankful to Sister Chris for her leadership, service to our mission and relentless drive for the betterment of our school," Wine, a 1967 Presentation graduate, said.
Wine said she has confidence that the search committee will select "the best person" to succeed Sister Beckett — whether that's a religious or lay person — who will take Presentation "to the next level."
During her time at Presentation, Sister Beckett has renewed and strengthened Presentation's relationship with the Sisters of Charity of Nazareth, the press release from the school said.
She was also instrumental in launching the school's first capital campaign, which resulted in the construction of the school's Arts & Athletic Center, 900 S. Fourth St.
In 2013, Sister Beckett helped implement Beyond, a fundraising program that raised more than $3 million. She also oversaw renovations to update classrooms, labs and other areas of the historic school building.
Most recently, she and the Presentation Board of Trustees have partnered with Luckett & Farley Development "to expand and improve Presentation's downtown campus," according to the release.
Sister Beckett said she decided to retire because "it's time."
"My decision to leave Presentation at this time is rooted in my desire to serve our world and church in other capacities," she said.
Presentation also announced the hiring of Rebecca Noonan as assistant principal. Noonan, a 2000 graduate of Presentation, and Kelly Hartman, a 1991 Presentation graduate who currently serves as assistant principal, will assist Wine with the school's administration, Wine said.
Wine said she expects the presidential search to last most of the upcoming 2017-18 academic year, with an announcement likely next spring.
A celebration honoring Sister Beckett is planned for sometime in August, though specific plans have not been announced.
Presentation Academy was founded in 1831 by the Sisters of Charity of Nazareth. It is the oldest continuously operating high school in Louisville.
Sister Beckett's departure leaves three women religious on the faculty of Presentation. Sister of Charity of Nazareth Amina Bejos and Benedictine Sister Anna O'Connor teach theology. And, Sister of Charity of Nazareth Susan Kilb teaches social studies.
In addition, Sister of Charity of Nazareth Edna Fabre volunteers in the cafeteria.