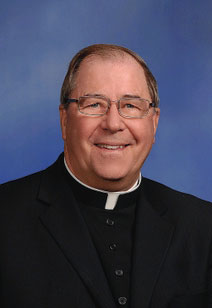 By Jessica Able, Record Staff Writer
Father G. Nicholas Rice, a retired priest of the Archdiocese of Louisville, was honored by the St. Meinrad Alumni Association earlier this week.
Father Rice, who earned a bachelor's degree in philosophy from St. Meinrad College in 1963 and a master's degree in divinity from the St. Meinrad School of Theology in 1967, received the St. Meinrad Distinguished Alumnus Award Aug. 2 at the school's annual alumni reunion banquet.
During his prepared remarks, Father Rice shied away from personal
recognition and instead took the opportunity to honor the "holy place, a beacon on a hill."
"It is wonderfully encouraging to reflect on the number of people who have walked through the 'St. Meinrad experience' and gone out into all parts of the world to share their lives, their spirituality, their call to service in his name, with men and women of all walks of life, cultures and various expressions of faith," he said.
During an interview last week, Father Rice said "to be honored by the people who formed you and believed in your ministry is a great honor."
"My pastoral experience for the last 50 years has taught me to let God call you to what God wants you to do rather than try to fashion your own path," he said. "My priesthood has been a much more incredibly rich experience than I would have designed."
Father Rice, a native of Lebanon, Ky., is the second of 12 children. He was ordained in 1967. He later earned a master's in education from Boston College in 1980 and took part in two sabbatical programs — the first in 1984 at the University of Louvain in Belgium and the second in 2005 at the North American College in Rome.
He founded the Mass of the Air, a weekly television production of the Sunday liturgy, in 1976 and recently retired as its executive producer.
His long list of contributions to the local church include establishing and serving as the first director of the archdiocese's permanent diaconate from 1973-80. Today, more than 100 deacons serve in parishes around the archdiocese.
In 1983, he founded the archdiocese's Catholic Communications Center, which he directed until 1989.
He also served as the director of the archdiocese's Office of Religious Education from 1976-83;  director of the Vocation Office from 1971-76; and pastor of St. Margaret Mary Church from 1987-94 and Our Lady of Lourdes Church 1998-2011.
Father Rice also served as the chairman of the search committee for the Louisville police chief in 2000.
Nationally, his list of accomplishments is similarly long. He served in a variety of roles, including as president of the National Federation of Priests' Councils, the National Association of Permanent Diaconate Directors and the National Conference of Diocesan Directors of Religious Education.
Though he is officially retired, Father Rice continues to serve as a celebrant for Mass of the Air and as a panel member of the "Moral Side of the News," a weekly TV program on WHAS-TV, and the WHAS Crusade for Children Grant Team, both roles he's had since 1989. He is also a board member of Father Maloney's Boys and Girls Haven and fills in for weekend liturgies at a half dozen parishes.
Archbishop Joseph E. Kurtz noted Father Rice's decades-long service to the church both locally and nationally, as well as his contributions to civic organizations, in a recent interview.
"Father Nick is so central to the life of the presbyterate. I think of the wonderful way he served as pastor of St. Margaret Mary and Our Lady of Lourdes," the archbishop said. Noting the priest's leadership in the Vocation and Diaconate offices, he added, "His leadership within the archdiocese has been instrumental."
Archbishop Kurtz also commended Father Rice for the creation of Mass of the Air and remarked on the "countless thousands of people who on Sunday are able to watch and participate in the Mass."
Father Rice said the years have gone by at an incredible speed.
"You forget about all the trials and tribulations. You end up with a rich tapestry of experiences," he said. "I really treasure the fact that I belong to the Archdiocese of Louisville with its history and deep, deep rooted spirituality and great number of very active ministries in the community."
Save