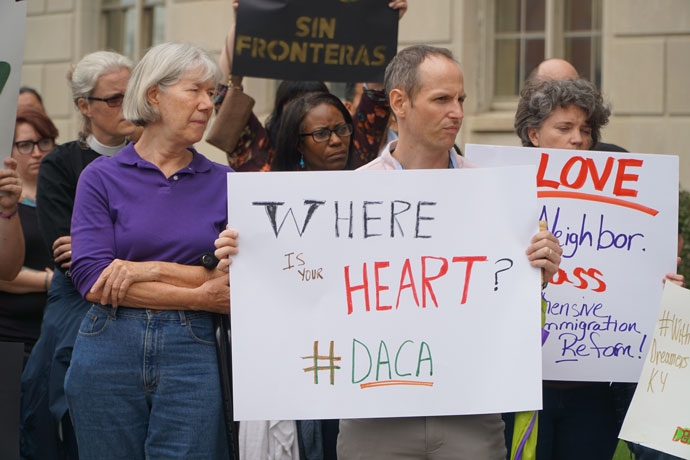 By Jessica Able and Rhina Guidos, Catholic News Service
Supporters of the Deferred Action for Childhood Arrivals (DACA) program gathered at a rally Sept. 5 in downtown Louisville to show support for DACA recipients and other undocumented immigrants.
The rally, which drew about 150 people outside of the Federal Building at Sixth and Broadway, came just an hour after President Donald Trump's decision to cancel the program was announced.
The bishops of the United States responded quickly, too, saying in a statement released Sept. 5, "the cancellation of the DACA program is reprehensible."
Attorney General Jeff Sessions announced Sept. 5 that the DACA program is "being rescinded" by President Donald Trump, leaving some 800,000 youth, brought illegally to the U.S. as minors, in peril of deportation and of losing permits that allow them to work.
Although the Department of Homeland Security will immediately stop accepting applications to the DACA program, those currently approved would not be affected until March 5, 2018, which Sessions said will "create a time period for Congress to act — should it choose."
Sessions described the 2012 policy, implemented as an executive order by President Barack Obama, as an "unconstitutional exercise of authority by the executive branch."
Father James Flynn, a retired priest of the Archdiocese of Louisville who spoke at the Louisville rally, directed his comments toward the young people whose lives will be affected by Trump's decision.
"We wish to reaffirm our commitments to DACA recipients in our communities of Louisville, Kentuckiana and throughout the Commonwealth," Father Flynn said. "We know many of them personally and know their dedication to their studies and work to improve their lives and those of their families. Their struggles are our struggles."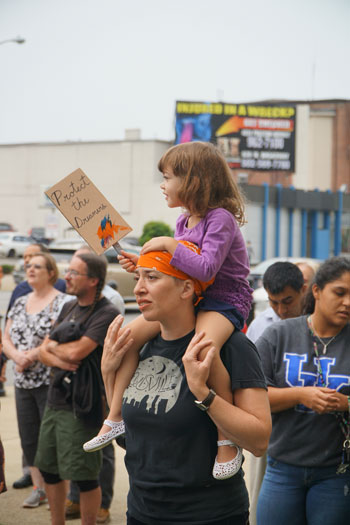 In their Sept. 5 statement, the bishops of the United States also pledged their support to young immigrants, noting that the president's decision "causes unnecessary fear for DACA youth and their families."
"Today, our nation has done the opposite of how Scripture calls us to respond. It is a step back from the progress that we need to make as a country," the bishops said, adding that the decision by the Trump administration is a "heartbreaking moment in our history that shows the absence of mercy and goodwill, and a short-sighted vision for the future."
The bishops also urged Congress to "immediately resume work toward a legislative solution."
They told DACA recipients: "You are children of God and welcome in the Catholic Church. The Catholic Church supports you and will advocate for you."
In the days leading up to the decision, the U.S. Conference of Catholic Bishops, along with other Catholic organizations, asked the president to keep the program.
In an Aug. 22 letter to U.S. Senator Rand Paul, Archbishop Kurtz encouraged the Kentucky senator to preserve the DACA program "by passing the bipartisan legislation known as the Dream Act."
"As Christians, we are called by Jesus Christ to serve the least among us and as Americans, we have a heritage of welcoming those who seek to build a better life. As you know, these young people were brought to the United States by their parents," he said in the letter.
The archbishop also wrote that these "Dreamers," as DACA recipients are sometimes called, desire to "live eventually as American citizens and pursue college and careers and pay taxes, and build families."
Legislation, such as the Dream Act, wrote the archbishop, would "provide Dreamers with permanent residence and allow them to become citizens, provided that they meet the criteria outlined in the legislation."
DACA does not provide legal status for youths who were brought to the country without legal permission as children, but it gives recipients a temporary reprieve from deportation and employment authorization in the United States — as long as the applicants meet certain criteria.
Archbishop Kurtz and Louisville Mayor Greg Fischer were among a coalition of leaders -— governors, mayors, city and state elected official, law enforcement professionals, faith and civic leaders — from across the country who signed a letter in support of DACA recipients.
The authors of the letter said that ending DACA and removing "hundreds of thousands of young men and women from our workplace also would cost the country an estimated $460.3 billion in lost Gross Domestic Product over a decade and tens of billions more in lost contributions to Medicare and Social Security."
"We believe it is a moral imperative that the administration and the country know we are with them. We also join together to send our assurances to Dreamers: we see you, we value you, and we are ready to defend you," the letter said.
At the downtown Louisville rally, Conventual Franciscan Father Charles McCarthy said he joined in to show support of DACA youth.
"I work with Latinos here, and elsewhere I've worked with other immigrant people. The resistance to accepting an immigrant populace doesn't make sense. It's not even xenophobia; it's just stupidity," Father McCarthy, a priest in residence at St. Paul Church, said at the rally.
Susan LaForge said she was "shaken" when just an hour earlier she listened to Attorney General Sessions announce the termination of the DACA program.
"Like I said earlier in my phone calls to Senators Mitch McConnell and Rand Paul's offices, as I listened to Attorney General Jeff Sessions, I was absolutely shaken, I was in horror of what I was hearing. I feel like it's un-American and I came here immediately to show support and I expect my Republican politicians in power to do something about it," she said.
Amy Shelton said she attended the DACA rally to show support for undocumented immigrants — both DACA and others.
"This (decision) is an incredibly divisive action and really hurtful to a lot of people who consider this country their home. These are people who participate in the community, who contribute tax dollars and who add to the culture," Shelton said.