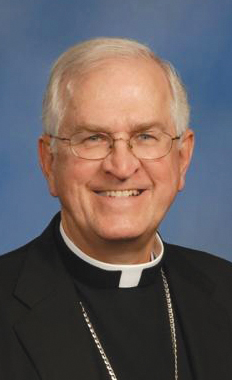 The stack of cards was on my little table in my chapel on the third floor of the Cathedral Rectory where I live. For a few mornings as I began my Holy Hour, I began to look at the petitions. Finally last week I picked them up and have returned to pray 10 or 12 petitions a day. It has been an encounter of grace!
These cards with petitions came from members of the newly formed "Salt and Light Society" of the Catholic Services Appeal (CSA). The members were invited to return a prayer petition that I would make part of my prayer each day in my little chapel. This was the first year for the "Salt and Light Society," our way to encourage as generous response as possible to the needs of the Catholic Services Appeal. More than 1,600 families responded. If you want to learn more about this society, go to www.archlou.org/saltandlight/.
As I turned from card to card, my heart was moved by the petitions. There were prayers requested for relatives who were ill, family members who once were very active in the Church and are now distant, prayers to bring peace to a particular family quarrel and prayers for peace and harmony in our troubled, often violent cities. There was a prayer of thanks for the leadership and pastoral heart of one of our pastors. There were lots of prayers for school age children with their lives ahead of them — prayers asking that the faith be conveyed to these children as it was conveyed to the writers of the petition by their parents decades ago.
I have gone back each day to read and re-read these petitions. They form a magnificent litany of faith in the midst of great need. And each one was a prayer requested at the time of the annual financial appeal that funds ministries year round, called the Catholic Services Appeal.
These petitions conveyed to me the clear message: The Catholic Services Appeal is not just about raising money, but also about raising prayers and increasing a generous heart in all. I am so privileged to take time each day to make these prayer requests part of my own prayer.
Just recently, I received the renewal of promises by our deacons at the annual Deacon Assembly. It also was the occasion to institute 25 new deacon candidates in the public process of formation that will take four more years and will lead to their ordination to the diaconate. In the renewal of promises, I asked at the end if they would renew their promise to "maintain and deepen the spirit of prayer that is proper to your way of life and, in keeping with this spirit and what is required of you, to celebrate faithfully the Liturgy of the Hours with and for the people of God and indeed for the whole world."
As I was praying during my Holy Hour, I recalled that final phrase, "with and for the people of God and indeed for the whole world." As I was praying the CSA petitions, I realized that this holy action was with and for the people of God and indeed for the whole world.
As the annual Catholic Services Appeal begins this year, I ask that you join me in prayer that our gifts this year will help bring Christ to others through the ministries of the archdiocese. In CSA, we see clearly who we are as an archdiocese: 110 parishes helping one another.
Join me also in praying for the petitions that are sitting in my chapel. And, this year we are inviting every family to offer a petition along with your gift of prayer and support. I will include them all in my chapel and my daily prayer.
On Thursday, Oct. 6 — the day in which this column will appear in The Record — I will be in Rome and will have the privilege of meeting personally with Pope Francis. I will thank him for his grace-filled pastoral visit to the United States just a year ago, and I will assure him of our prayers for and with him. I also will mention those cards in my chapel — making very concrete the real lives of the faithful of the Archdiocese of Louisville — joining us in prayer to our Savior Jesus.
Archbishop Joseph E. Kurtz