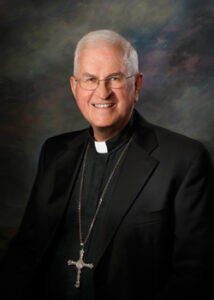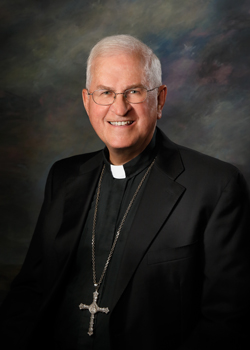 It is hard to predict when a sacred liturgy will be deeply moving. Of course, every time we participate in the Holy Eucharist, the saving death and resurrection of Jesus for our salvation, we ought to be moved in the depths of our hearts. But I must admit that there are certain occasions when it is just plain special, and one enters into the mystery of His death and resurrection so deeply that our whole being responds.
I cannot put into words how moving was one aspect of the perpetual profession of Sister Rachel Lynn Geracitano.
Born in Louisville and serving as a woman religious in family ministry at our Catholic Cemeteries office, she has become quickly known for her goodness, upbeat faith and gentle service of others. Families at the time of the death of a loved one need someone just like her.
So I was honored to drive to Ferdinand, Indiana, to the Benedictine Monastery Immaculate Conception to preside at her profession.
At one point in the ceremony, we chanted the "Litany of the Saints" while she lay prostrate in the main aisle. We beseeched the wisdom and courage of the Holy Spirit to lead her in this profession that would commit her to a path of loving union with God and service to all in the manner of Jesus and through His grace.
Then before the solemn blessing, she stood and sang in a soft, beautiful voice the "Suscipe": "Receive me, O Lord, according to your Word and I shall live, and do not fail me in my hope." Then the entire community of Benedictine Sisters sang in one voice those same words rooted in Psalm 119, verse 116. 
Then, at a slightly higher pitch, she sang again, and the community echoed. Finally, at the highest pitch the same chant. The moment was alluring. You could hear a pin drop.
I am told that this passage comes from the Rule of Saint Benedict, which is ancient in the Church and yet contains sentiments so deeply relevant. I was reminded of St. Augustine's speaking of Christ as ever ancient, ever new.
I can picture the Benedictine Sisters each day humming that prayer of petition, rooted in such joy and trust. As each sister renews that openness of heart to God, she does so in the midst of the community so joined by grace and the ideal to serve fully and generously and so desirous to do so as a family — a community.
There is also a "for the rest of my life" quality to this pledge and pleading. Eight days later, the Cathedral of the Assumption was filled with married couples celebrating anniversaries of the solemn vows they made to each other in Christ's presence. Their "to love and honor for richer or poorer, in sickness or health, until death do us part" has a similar ability to send a chill down the spine of the observer.
How wonderful is God's covenant — His promise to be with us in all times and circumstances and our human response. In Christ, this covenant has been sealed once and for all. Whether it is Sister Rachel Lynn who will rise each day and be joined to the words of the "Suscipe" along with the Benedictine Sisters with whom she will travel through life — a life of holy and loving service to all — or the married couples who for decades have been faithful to the vows, we the beneficiaries are buoyed up and encouraged by these generous acts.
Let me conclude by repeating the verse from Psalm 119 that found its way so prominently into the Rule of Saint Benedict and, I pray, into my daily routine:
"Receive me, O Lord, according to your Word and I shall live, and do not fail me in my hope."