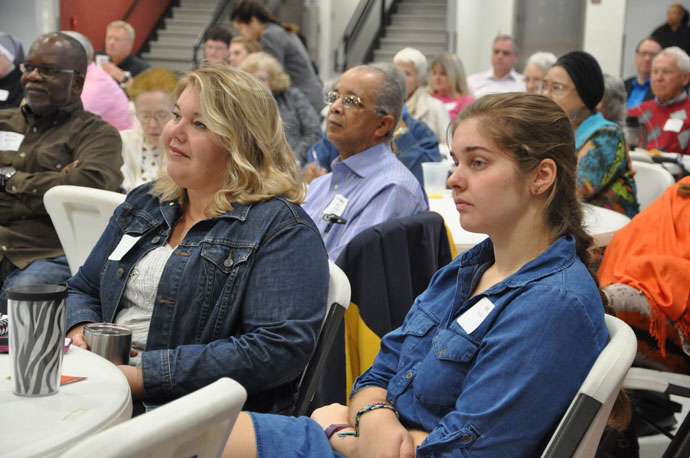 By Jessica Able, Record Staff Writer
When people with different passions learn how to collaborate with one another, the culture of life becomes stronger.
That's the message 200 or so people heard at the Archdiocese of Louisville's Life Conference on Oct. 22.
The theme of the conference, held at St. Michael Church in Jeffersontown, was "Moved by Mercy — Every Life Matters" and it aimed to serve as a place of dialogue for those interested in the dignity of life, said event organizers.
During his keynote address, Archbishop Joseph E. Kurtz asked participants to consider St. John Paul II's words from the 1995 encyclical "Evangelium Vitae:" "Everyone has an obligation to be at the service of life."
The Holy Father, whose feast day coincided with the Life Conference, went on to write
in the encyclical, "Together we all sense our duty to preach
the Gospel of life."
The archbishop said the Life Conference was an opportunity to "deepen and purify the passion that brings us here."
"We deepen it by the light of Christ and our Catholic social teachings," he said.
To stand up for life, Archbishop Kurtz said, individuals need to possess a passion and a conviction for life; the knowledge and information of the Gospel and Catholic Social Teaching; and the humility to promote the Gospel of life.
Four individuals gave personal testimonials on the day's four themes — abortion, the death penalty, immigration and racism.
Leah Trout delivered an emotional and deeply personal talk centered on her conversion following two abortions she had earlier in her life — one as a teenager at the urging of her mother and another in her early 20s.
"In that despair, I began the most primal prayer of 'Help me, I can't do this.' Our God, in his mercy, reached down and picked me up. He put my feet on the solid rock of Jesus Christ and began ministering to my heart," said Trout, who attends St. Aloysius Church in Pewee Valley, Ky., with her husband and three sons.
Trout, who is expecting another child now, volunteers at the Little Way Pregnancy Resource Center.
Ruth Lowe told attendees the circumstances surrounding her brother's murder and how, eventually through time and prayer, she was able to forgive his killer. She now works to abolish the death penalty.
"I understand the anger, hate, revenge — it took a long time to forgive. I was angry for a long time," she said. "I had to decide to not let that anger and bitterness and the need for revenge destroy my life. I had to turn to God," she said, noting that before she found forgiveness she felt distant from God.
Lowe, a member of St. Louis Betrand Church, also volunteers with Meals on Wheels and visits Catholic patients at University Hospital.
Jerome Ruhumuriza spoke about his experience as a teen refugee. Ruhumuriza, a native of the Democratic Republic of Congo, arrived in the United States in June 2015.
"To wait as a refugee is not easy. I used to cry everyday because of my life," said Ruhumuriza, who spent 10 years in various refugee camps
Ruhumuriza, who is a student leader at Moore Traditional High School, said "that no matter who you are, no matter where you come from — you are the same in Jesus, you are one people in Jesus."
Charmein Weathers reflected on her personal experiences with racism. Weathers, the multicultural projects/communications coordinator for the archdiocese's Office of Multicultural Ministry, called racism "a cancer" that "permeates in every aspect of our lives." She shared personal experiences of being racially profiled in stores, schools and restaurants.
"Those who have never experienced racial profiling … might think the victims were and are being hypersensitive," she said. "But until you have been treated unfairly simply because of your race, you will never quite understand the frustration and anguish that accompanies the experience."
Weathers, who is a parishioner of Christ the King Church, noted that the Black Lives Matter movement doesn't mean that other lives don't matter and that the struggles of others aren't relevant. It simply means, she said, "that black lives matter also and that all lives matter equally."
"The Black Lives Matter movement is a rallying cry for social change. It is a campaign against violence and systematic racism towards black people," Weathers said.
Following the witness talks, conference participants shared lunch provided by Common Table, a ministry of Catholic Charities designed to teach refugees, former inmates and others skills in food service. The Common Table program received a portion of the day's registration fees.
During lunch, attendees were encouraged to join others they may not have known and to participate in a table discussion. Question prompts included:
Were you challenged by anything you heard? How might we best dialogue together on life issues?  And is there a particular issue/concern you would like to learn more about?
The day concluded with Mass celebrated by Archbishop Kurtz.