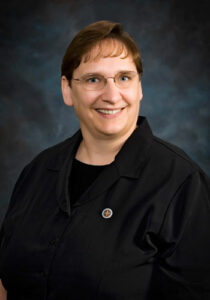 Benedictine Sister Doris Schepers will make her perpetual monastic profession as a Sister of St. Benedict of Ferdinand, Ind., on Oct. 17. The Mass will be at Monastery Immaculate Conception in Ferdinand and Bishop Charles C. Thompson of the Diocese of Evansville, Ind., will preside.
The public is invited to attend the Mass, which begins at 1 p.m. EDT, and a reception.
Sister Schepers, who is 53 and a native of Ferdinand, teaches religion at St. Patrick School in Eastwood. She is in her fifth year teaching at the East Louisville school.
She is the daughter of Oscar and Marlene Schepers and has seven siblings. She holds a bachelor's degree in education from Indiana University Southeast and two associates degrees — one in computer programming and the other in computer science.
Prior to entering the monastery, Sister Schepers worked as a systems administrator for Indiana Congressmen Lee Hamilton and Baron Hill. She also served as a youth minister at St. Anthony Church in Clarksville, Ind.
She made her first monastic profession in 2009. After joining the monastery, she served as a substitute teacher in Evansville, Ind., and as a math teacher at John Paul the Great High School in Jasper, Ind.
She is one of 149 Benedictine Sisters of Ferdinand, a community that dates to 1867. The sisters serve in education, parish work, health care, retreat and spirituality ministry, social services, counseling and do mission work in Indiana, Kentucky and Peru.