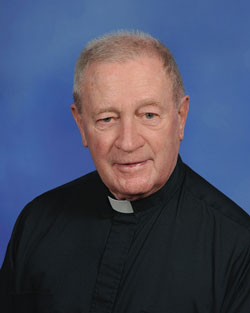 By Father James Flynn
Thirty five years ago, on March 24, 1980, Archbishop Oscar Arnulfo Romero-Gadalmez was martyred as he was celebrating Mass by an assassin's marksmanship.
The reputed assassin, Alvaro Rafael Saravia, was a member of Salvador's infamous military "death squads." Earlier he had graduated from the U.S. "School of the Americas" in Ft. Benning, Ga., and found refuge in California for years.
One wonders how this assassin must feel as Archbishop Romero has been proclaimed "a martyr of the faith" by Pope Francis. Romero will be beatified in San Salvador's Cathedral on May 23, 2015, with formal canonization likely to follow later, probably in the Vatican.
While the rest of the world will proclaim Romero a saint, since my first visit to Salvador in 1991 I've seen graffiti scratched everywhere proclaiming the faith of Salvadorans: "San Romero de las Americas." He has been their saint since the day of his martyrdom.
Romero's blood joined that of so many Salvadorans (75,000 civilians) sacrificed during the years of the '70s and '80s, until peace accords were signed in 1992. The enormous bloodshed includes the blood of the four U.S. Maryknoll missionaries martyred 35 years ago this coming Dec. 2.
During those bloody years Salvadoran oligarchs and their compliant military would allow no voices for the voiceless, those thousands of urban poor and rural peasants, even if a voice would be that of an archbishop.
The depth of such arrogance became evident at Romero's Funeral Mass at the cathedral in San Salvador on March 30, 1980. More than 200,000 people had crowded in the plaza in front of the cathedral on that hot March day.
The casket of Romero was carried to the front of the cathedral for the Mass, but quickly Salvador's military, with total impunity, began shooting at the mourners from rooftops.
More than 60 people were killed and hundreds were wounded, many in the panic that ensued.
Before he was assassinated, Archbishop Romero had received many death threats. But he famously encouraged his people: "If they kill me, I will rise in the Salvadoran people." This was a hope he expressed in the resurrection of people against the injustices of Salvador's political-military operatives.
I've also seen this quote of Romero as graffiti in many places in El Salvador, and it has given me refreshing insights into the resurrection of Jesus.
Perhaps Jesus could have used the words of Romero: "If they kill me I will rise in my Christian people".
Hopefully, the beatification of Archbishop Oscar Arnulfo Romero-Gadalmez on May 23 will give renewed energies to all followers of Jesus to rise in the continuing struggle for justice and dignity for all people, especially those without voices.
Father James Flynn is a retired priest of the Archdiocese of Louisville who has worked for decades in peace and justice issues related to Latin America.