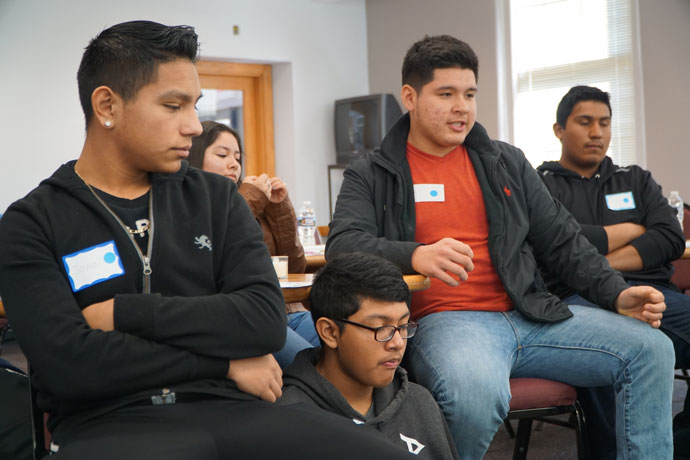 By Ruby Thomas, Record Staff Writer
More than 100 Hispanic middle and high school students gathered March 4 at the Maloney Center to share their experiences in the Catholic Church.
These young people are a small fraction of the reported 30 million Hispanic and Latino Catholics living in the United States, whose experiences the church wants to better understand.
Eva Gonzalez, director of Hispanic ministry in the Archdiocese of Louisville's Office of Multicultural Ministry, said the daylong "Encuentro V Adolescents Retreat" provided an opportunity for students to reflect and share.
The retreat also provided an opportunity for the young people to take part in the preparation process for the fifth national Encuentro, a national gathering of Hispanic Catholics scheduled for September of 2018.
The preparation process, which began in January, focuses primarily on adults — bringing them together for discussion, opportunities for reflection and a ministry of evangelization.
The process was condensed for young people at the daylong retreat, but the end result is the same — the United States Conference of Catholic Bishops will hear about their experiences as Hispanic Catholics, said Gonzalez.
The retreat drew young people from 12 parishes and included prayer in English and Spanish and small group discussions.
The day focused on five themes for discussion, including one that asked the young people to talk about situations where they experienced discrimination and prejudice because they are Hispanic.
Gustavo Alcantara, a volunteer leader who is a senior at Eastern Kentucky University, told high school students attending the retreat that he has encountered discrimination on his college campus.
Shortly after the presidential election, he said, a group of young men drew a picture of a wall on campus grounds and wrote the words, "Build a wall and make America great again."
"It was sad feeling you're rejected in your own school," said Alcantara, whose parents immigrated to the U.S. from Mexico when he was 8 years old. After Alcantara's testimony, several students opened up about their experiences as young Latinos.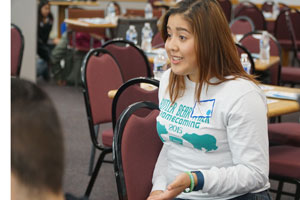 Erika Quintero, a high school junior, shared with the group how "hurt" she felt when she found out her immigration status would prevent her from accessing financial aid for college, such as funds from the Kentucky Educational Excellence Scholarship (KEES).
Quintero's parents emigrated to the United States when she was only 10 months old, she said. She is now protected by the Deferred Action for Childhood Arrival program (DACA).
DACA was created in 2012 under President Barack Obama's administration, offering temporary relief of deportation and work authorization for certain young people who were brought to this country under the age of 16.
She thought the retreat was a good experience.
"It's a way to open up and express what you feel and to let others know they're not alone," she said with a bright smile.
Liseiri Salas, a high school junior, said the retreat was helpful. Her parents emigrated from Mexico when she was 5 years old, but these days the United States rarely feels like home, she said. Some schoolmates have said discouraging things to her, such as " 'Go back where you came from,' " she said. "They have no idea how hard our lives have been."
The retreat helped her realize others were going through difficulties too, she said, noting that she now has a sense that, as Latinos, they "have each other's back."
The younger participants seemed to think so as well.
A group of eighth-graders — all trying to speak at the same time — said how much "fun" and how "exciting" it was to gather with their peers and meet new people.
"You get to know other people's story," said Katherine Valenzuela.
Fatima Rodriguez said the retreat was a "really good idea," because it allowed people "to let out their emotions and receive help."
Nayeli Perez said she heard in their group discussion that families were being separated because of deportations.
"It's sad. I wouldn't wish that on anyone," she said.
Oscar Reyes was glad to hear that the U.S. bishops would hear of this gathering and will hear "what people have gone through and know what people are feeling and thinking," he said.
Many participants said they want to be more involved in the church and expressed their desire for a youth ministry at their parish.
Carole Goodwin, director of youth and young adult ministry for the Archdiocese of Louisville, helped coordinate the retreat.
She said that programs and activities tailored to young people are important. And she noted that young people can be included in leadership roles in their own communities.
"They are very capable of helping with liturgy and with fiestas, for example," said Goodwin, adding that the church should listen to the opinions of young people when it comes to finding ways to involve them in parish life.
"Most teens want to be recognized and affirmed as someone of value," said Goodwin.
Gonzalez, the director of Hispanic ministry, said she will send the information gathered at the retreat in a report to the USCCB.