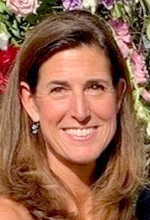 Although my teenage self may have fallen short of the highest respect owed my grandparents — rolling my eyes too many times at their stories and pearls of wisdom — I did, in fact, listen. I came to adore their unique, funny, heartbreaking and thought-provoking tales.
What a beautiful lesson I learned from them that everyone has a story worth hearing. Those storytellers are deserving of our time, our respect and our protection. What a blessing that, as an associate long-term care ombudsman for Catholic Charities, I get to hear wonderful memories and stories all the time.
I have only been in this role for six months. I suspect my husband, or my parents, might say I was always meant for this role. I have always liked to advocate (maybe they would just say I have never been afraid to argue a point). I was a little late getting here, having believed for many years that my children were the only people who needed my advocacy, far more and for far longer than they actually did. So, my experiences are still somewhat limited; but they have certainly run the gamut.
Sometimes my day is simply listening to people tell their stories — rich and lovely stories of families, travels, adventures and losses. Occasionally, I get a fun, easy request for assistance, like cookies for breakfast or more movies on the living room TV. I have advocated for residents who need call lights answered faster, or medicine passed more efficiently or who want more outings and activities.
Most long-term care facilities have staff who work diligently for what residents need. We work diligently for what they want. We help residents access the things, experiences and people that make their daily lives more full, comfortable and rewarding.
However, our role as ombudsmen can sometimes be emotionally demanding and difficult. One of my first cases proved to be my most challenging to date. A resident with terminal cancer and her guardian were at an impasse about how to address her illness. Our resident did not wish to be treated. The guardian had a well-intended plan for aggressive treatment, hoping to extend the woman's life a little longer.
Everyone understood that treatment would not cure her. Legally, the guardian decides whether to treat. At the resident's request, we challenged the guardian to consider our resident's right to have her wishes honored. We prevailed in the bittersweet end, and she passed away with grace, in her bed, with her friends nearby. It was a successful case, with an inevitably sad loss.
In this role, we see and deal with every kind of person: young and old residents with various diagnoses and conditions, family members, nurses, aides, maintenance and housekeeping, administrators, friends and visitors, concerned citizens. Balancing all those interests while protecting the rights of all residents can be confrontational and taxing, sometimes not even practicable. We persevere. In success and in failure, it is gratifying to know that we helped give someone a voice and a chance to be heard.
We humans have beautiful stories to tell, burdens we struggle to bear, as well as unflagging strength to overcome. When we hear our stories and share our strengths, we are powerful advocates for each other, and our servant hearts are full. Our grandparents would be proud.
Our older population is growing, as is their need for our assistance. If you are interested in volunteering as a "friendly visitor" or as a certified ombudsman, please contact Itzel Gonzalez, our volunteer coordinator, at igonzalez@archlou.org or 637-9786 for more information.