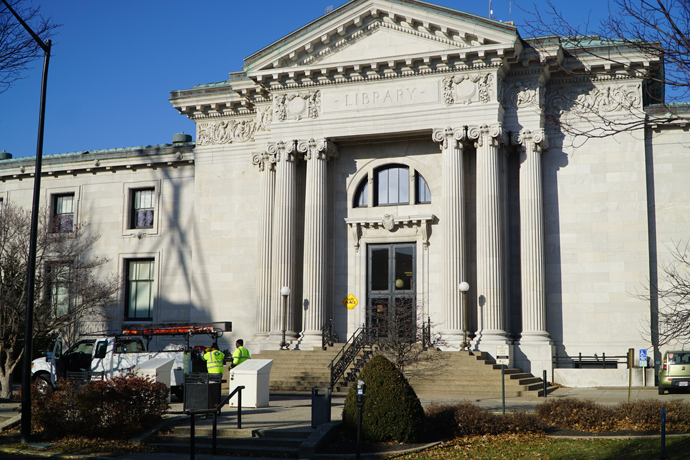 Record Staff Report
City workers removed the statue of a controversial 19th-century figure — known for his anti-Catholic and anti-immigrant views — outside the main branch of the Louisville Free Public Library on Tuesday.
The white marble statue of George D. Prentice, founding editor of the Louisville Journal in 1830, was placed outside the library in 1914. He has been remembered for his habit of publishing hateful rhetoric about Catholics and immigrants.
In a statement issued Dec. 10, the Archdiocese of Louisville expressed support for  Mayor Greg Fischer's decision to remove the statue.
"Given the history of Mr. Prentice's rhetoric and the divisiveness that exists in our society today about welcoming the stranger, we support Mayor Fischer's decision to remove the statue," the archdiocese's statement said.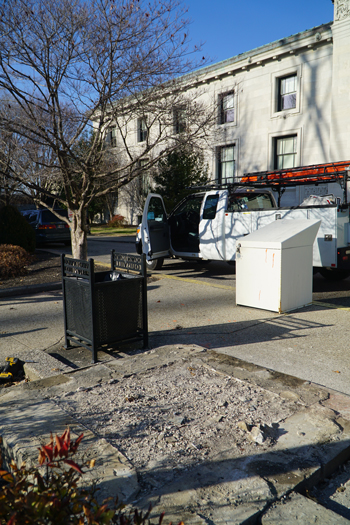 The archdiocese noted, "George Prentice has a very mixed history. He established a very successful newspaper but also encouraged hatred for Catholics and for immigrants in its pages.
"Generally, the archdiocese does not take a position on civic monuments, respecting the role of civil authorities and citizens to make these decisions," the statement said. "It also is important to distinguish between historical presentations that help us to remember history, good or bad, and those that honor an individual and may no longer represent the values of a community. The Prentice statue in front of the library seems to fall in the latter category."
As city workers began the removal Dec. 10, Fischer said in a statement, "Mr. Prentice used his position as founder and long-time editor of the Louisville Journal to advocate an anti-Catholic, anti-immigrant message that led to the 1855 Bloody Monday riot where at least 22 people were killed. His statue is especially inappropriate outside the library, a place that encourages education, inclusiveness and compassion."
Bloody Monday was a day of violence against immigrants on election day, Aug. 6, 1855, when about 22 people were killed, mostly Catholics. Fiery anti-Catholic and anti-immigrant editorials by Prentice preceded the violence.
Prentice later publicly expressed regret for his role in the riots, according to his entry in The Encyclopedia of Louisville. His statue has been taken to a city storage facility, according to the mayor's office.
In addition to the Prentice statue, the mayor plans to remove a statue in the Cherokee Triangle that depicts John Breckinridge Castleman, who was exiled for his efforts as a Confederate soldier during the Civil War. He was later pardoned and went on to help establish Louisville's park system. The statue was erected in 1913.