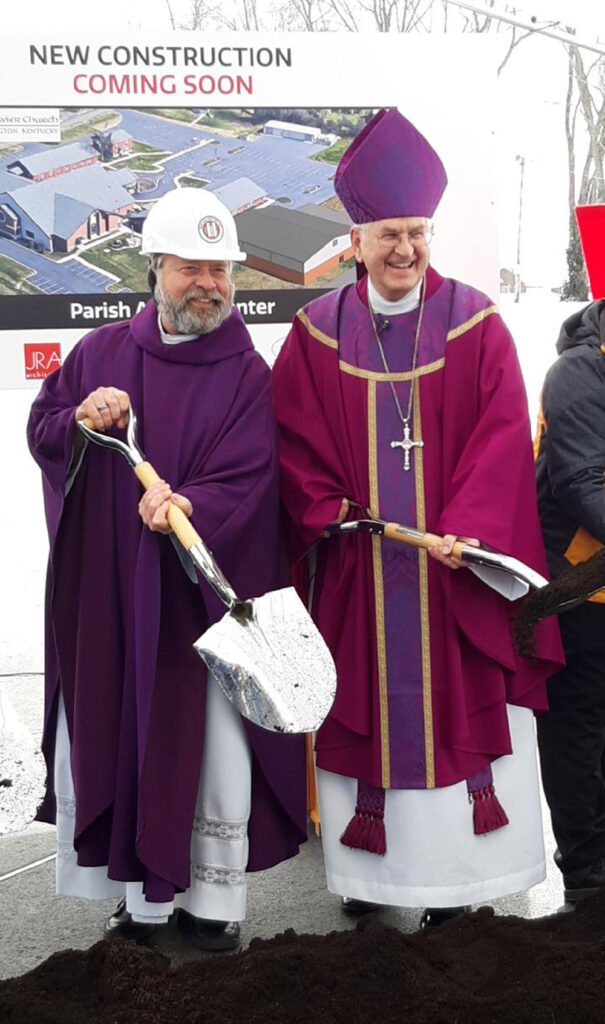 By JESSICA ABLE and RUBY THOMAS
Record Staff Writers
Despite the challenges posed by the pandemic — from the difficulties of holding meetings to financial uncertainties — two parishes recently broke ground on major building projects.
St. Francis Xavier Church in Mt. Washington, Ky., held a ground-breaking ceremony for its Parish Activity Center Feb. 21.
The activity center will be located at the far right end of the church property, next to the parish's existing religious education building.
The 11,000-square foot building will house a large event space, industrial-size kitchen and several classrooms, said Father Dale Cieslik, pastor of St. Francis Xavier. The projected cost is $3.2 million.
"We have a great need for more space, especially to house large groups of people, whether that is receptions, meetings or parish gatherings," said Father Cieslik.
The pandemic slowed plans for construction but Father Cieslik said the timeline is back on track.
"Literally hours before everything was shut down last year, we had just got approval from the archdiocese. The wonderful thing is people stayed very faithful to their commitment to the campaign, all the while still meeting regular stewardship commitments," he said.
The parish expects to dedicate the building on March 27, 2022, the same day the current church building was dedicated by Archbishop Joseph E. Kurtz in 2010.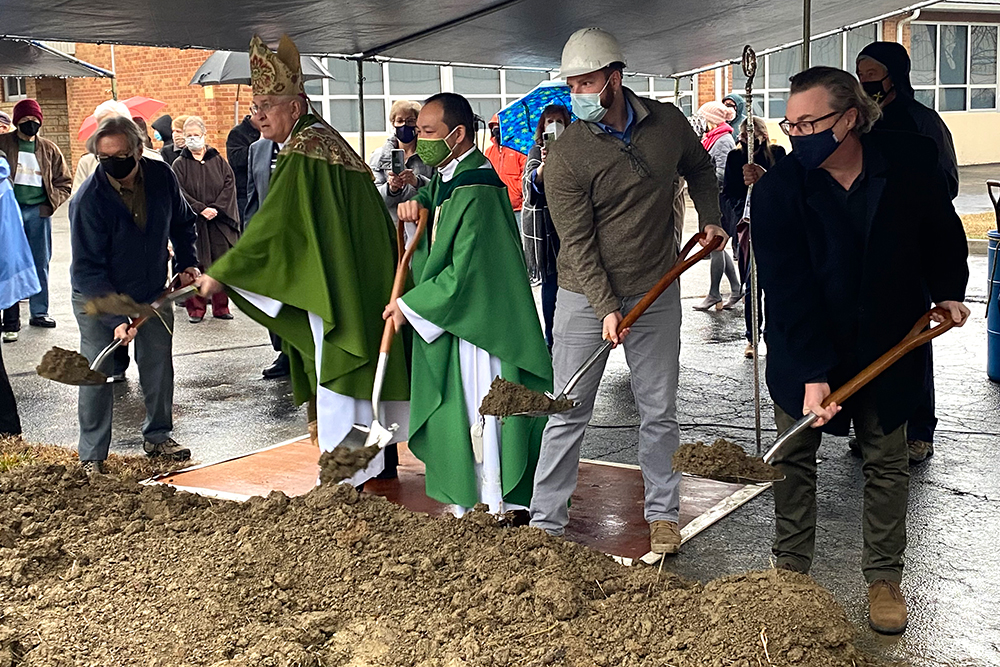 St. John Paul II Church, 3521 Goldsmith Lane, held a ground-breaking ceremony for a Parish Life Center Jan. 31.
The center will be located in front of the Community Center at the site of the old St. Pius X parish office. That building was damaged by fire in 2013. St. Pius X and St. Barnabas Church closed in 2015 to form St. John Paul II.
The planned 7,000-square foot building, projected to cost $1.7 million, will house much needed office and meeting space, said Father Peter Do, pastor of St. John Paul II.
"It's hard to have a big group meeting because we have no space. We find space anywhere we can in the school building, cafeteria or community center," he said. "Luckily because of the pandemic we've not been meeting in person. … When things return to normal we'll desperately need it."
St. John Paul II also recently completed the building of a new rectory. Father Do said mold and asbestos were found in the old rectory building, which was torn down after the fire. The rectory was completed in October.
Father Do expects the Parish Life Center to be completed by December and to move in by early 2022.