By Jessica Able and Marnie McAllister, Record Staff Writers
The canonization of St. Junípero Serra, which took place yesterday afternoon in Washington, D.C., before a crowd of 25,000 worshippers, was the first canonization on United States soil.
Pope Francis celebrated the canonization Mass for the 18th-century Spanish missionary to California at the Basilica of the National Shrine of the Immaculate Conception. Archbishop Joseph E. Kurtz and Father Joseph Voor, a retired priest of the Archdiocese of Louisville and chaplain of the archdiocese's Serra Club, concelebrated the historic liturgy.
Deacon Sean McKinley, a seminarian for the archdiocese, and Dr. Brian Reynolds, chancellor of the archdiocese, also attended the celebration.
Deacon McKinley, who attends Theological College in Washington, was invited to distribute holy Communion at the Mass. He also plans to attend the Holy Father's address to Congress today at the U.S. Capitol. Pope Francis is the first pope to address a joint meeting of Congress.
In a phone interview last week, Deacon McKinley said he was excited to participate in the papal visit.
He believes Catholics and non-Catholics alike are drawn to Pope Francis because of his genuine love and concern for others.
"He shows people — no matter who's there in front of him — love, respect and dignity," he said. He added that the Holy Father is able to talk directly to people's experiences.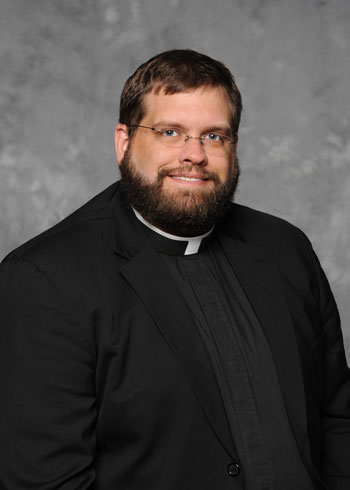 "He uses his own personal experiences when he talks. He shares life experiences and life stories with people. That seems, to me, how he envisions ministry being done, being able to bring them into the church. That is something that as a priest and minister of the church I personally would like to have as part of my ministry," he said.
Deacon McKinley noted he appreciates that Pope Francis took the time to meet with the president and other political leaders, but he also admires the Holy Father for visiting with leaders of Catholic Charities and other charitable organizations while in the nation's capital.
"I think that shows some of the leadership style he sees for the church and how he wants us as church to respond and act," said Deacon McKinley, who has attended papal Masses celebrated by St. John Paul II in Denver in 1993 and in Toronto in 2002.
As Pope Francis' visit continues today in Washington, parishioners of Immaculate Conception Church in La Grange, Ky., and Father Patrick Delahanty, a retired priest of the archdiocese, will be in the crowd at the Capitol. Pope Francis is expected to greet the crowd on the Capitol lawn after addressing Congress.
This weekend, a handful of other local Catholics who are attending the World Meeting of Families in Philadelphia will encounter Pope Francis at several events.
Bryan Bush, who is in formation for the diaconate, and his wife Jennifer will be assisting Communion ministers at a public Mass with the Holy Father in Philadelphia Sept. 27.
Like Deacon McKinley, Bryan Bush is inspired by Pope Francis' concern for the poor and vulnerable.
"Pope Francis' approach to the poor, his pastoral approach is what attracts me to him more than anything. We can be absolutely right in our dogma but if we're wrong in our pastoral approach, it doesn't come through. That's the thing I really enjoy about Pope Francis," Bush said.
"I'm truly impressed by his compassion for the poor. He has a great quote — he's speaking to seminarians, but he's speaking talking to all of us in general: You can't speak of the poor unless you've been with the poor. If you want to speak about poverty, go and be with the person who is homeless and hungry," said Bush, who regularly ministers to clients of the Society of St. Vincent de Paul and the Franciscan Kitchen.
Throughout this week, he and his wife also are attending the World Meeting of Families — the reason for Pope Francis' U.S. visit. The couple, who are celebrating their 28th wedding anniversary with this trip, hope to learn more about ministering to families that are hurting.
"It's such an important thing with ministry in the family," he said. "How we approach people who've been through divorce, issues of cohabitation, we have to learn how to minister to them."