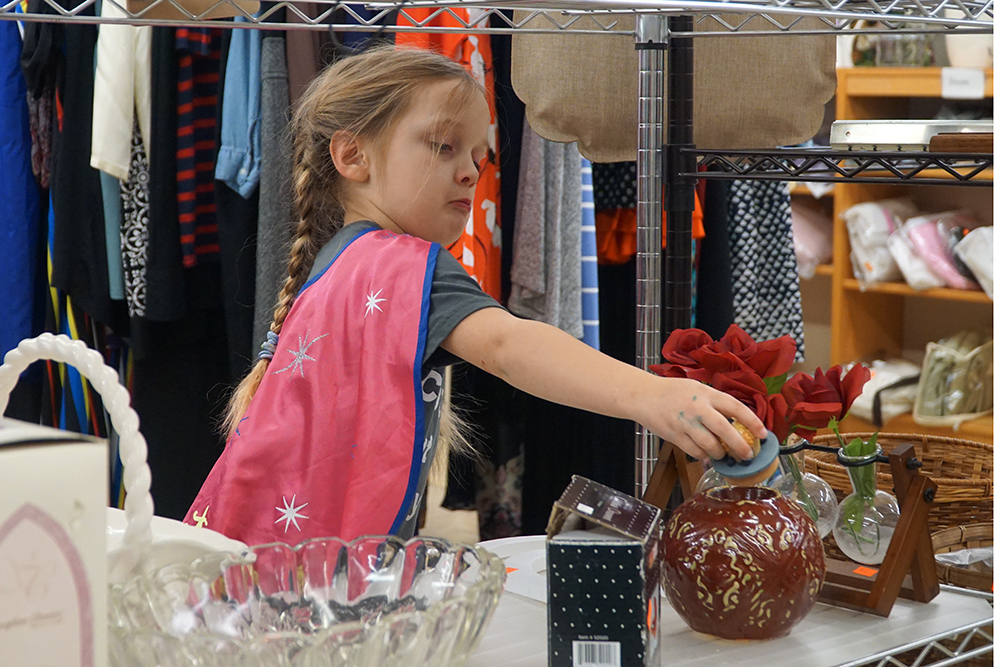 LA GRANGE, Ky. — The Agape Thrift Store on First Street in La Grange has become a gathering place of sorts, and the shop's staff and volunteers welcome it with open arms.
"We have lots and lots of repeat customers," Deacon Bob Caruso, the store's manager, said. "Some people are in here twice a day."
The assistant manager, Penny Merideth, noted, "In the summer, we're packed. We can't keep enough carts out here for everyone. No one seems to mind, though. They just bring what they're going to buy up to the counter by the armload."
And then there are the regulars.
"There's a group of women who meet us at the door when we open every morning," part-time associate Kristine Kroszkewicz said, laughing. "I think we need to open an Agape Lounge for the husbands!"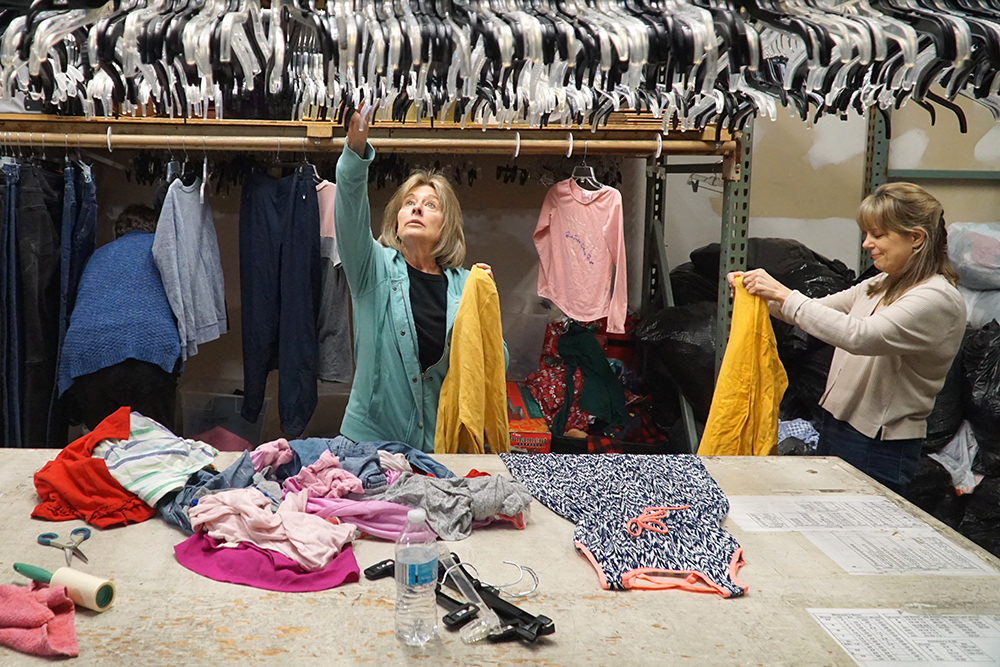 Folks are drawn to the sense of community and dignity fostered by the Agape Thrift Store, staff said. Kroszkewicz said it's not a thrift store, it's a "dignity shop."
Immaculate Conception Church opened the Agape Thrift Store as an outreach ministry 42 years ago, according to Deacon Caruso. He's been running it for the past eight.
"We not only provide goods and services but we promote dignity here," the deacon said. "It's clean, organized and dignified so people that come here don't feel like they have to keep their head down."
Elizabeth Duncan, who was shopping Feb. 17 with her children, said they frequent the store.
"Everything we buy comes from here," she said. "All our clothes, toys, everything."
Duncan's children were sifting through bags of seashells, aquarium rocks and craft supplies. Nearby, her cart was full of clothes and home decor.
"We're picking out shells that you can hear the ocean in!" Revel Duncan, Duncan's daughter, exclaimed.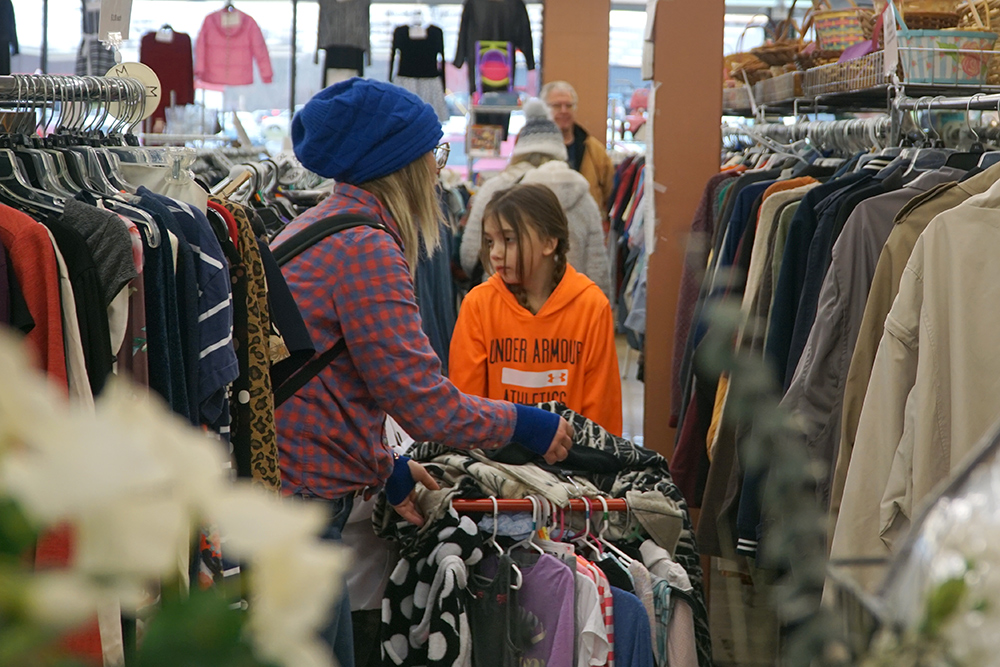 Deacon Caruso has formed relationships with many of the repeat customers, noting among them Hispanic immigrants he invites in, a family that escaped domestic abuse and a woman who lost everything in a house fire.
To the families starting over, he gives things away.
"She's in here every week," Deacon Caruso said of the woman who left her abuser. "Once a month, I give her her cart for free."
Over the course of their friendship, she has begun asking questions about the Catholic faith and how it differs from her Baptist beliefs, Deacon Caruso said. He has invited her to attend Mass in March, on a weekend he'll be preaching.
"I am an enormous believer in the Holy Spirit," he said. "And this is a good place to evangelize without being over the top about it. If I see an opportunity to show people about the faith, I do."
The rest of the staff see the Holy Spirit at work in the store, too.
"We'll be talking about stuff we need — kids clothes, jewelry for up front — and within a few days, it's coming in the back door" in the form of donations, said Merideth, the assistant manager.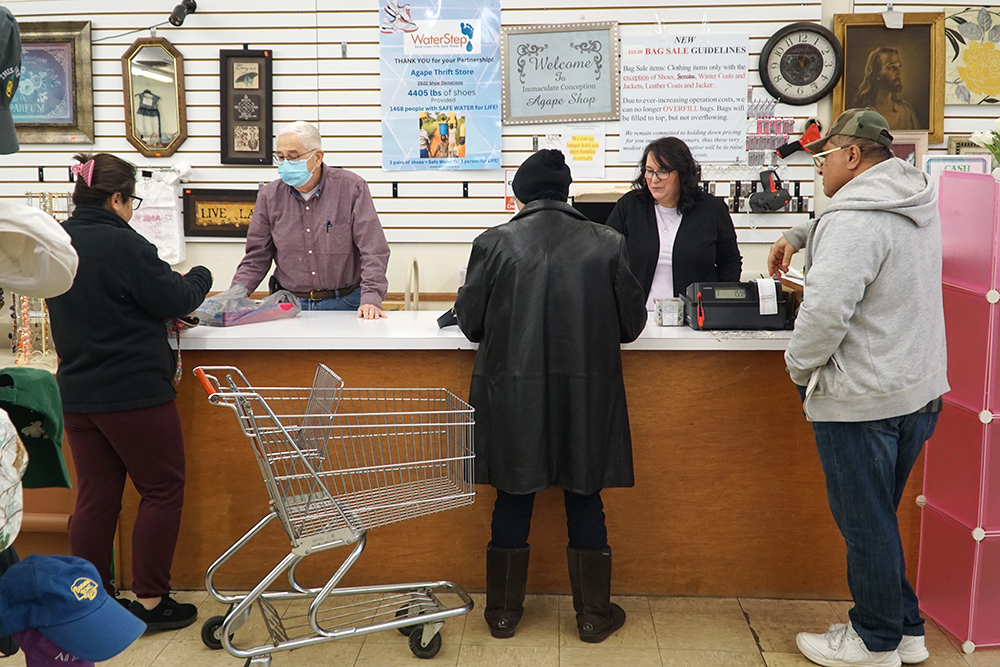 Only three positions are paid; the rest of the operation is outfitted by more than two dozen volunteers.
"We like to believe the secret of our success is our volunteers," Deacon Caruso said. "We have a merry band of 26 really, really dedicated volunteers. They're not just Immaculate Conception parishioners, either. They're dedicated, dedicated people that donate their time and talents."
Tina Steffes, an Immaculate Conception parishioner who has been volunteering at the thrift store for the past year, said the store's sense of community extends to the volunteers.
"We sign up each week for times to volunteer but sometimes if we don't have anything to do, we'll come up here anyway, even if we aren't scheduled," she said.
"If it wasn't for these volunteers, we wouldn't be able to do what we do," Merideth said.
The store receives between 40 and 50 donations a day. Volunteers sort the items — to sell, to donate, to throw away — price them and put them on the sales floor.
What can't be sold is donated to Wayside Christian Mission or WaterStep, Deacon Caruso said. Once a week, the Agape Thrift Store fills a 40-foot box truck of items unable to be sold in the shop and sends it to Wayside. Recently, WaterStep, a Louisville-based nonprofit that provides water purification products to those in need, recognized the Agape Thrift Store for being the second largest donor in Kentucky in 2022.
"We donated 4,400 pounds of shoes to them," Deacon Caruso said. "That's enough to provide clean safe water for 1,468 people for life. And this year we're going to double that."
Deacon Caruso considers his work to be part of his diaconate ministry.
"I'm just a vehicle," he said. "I come every day to make sure it stays clean and between the riverbanks of our organization. It's so ingrained in what I do as a deacon."
The Agape Thrift Store is open Monday-Friday, 11 a.m. to 5 p.m.
Donations are accepted at the back door of the store Monday-Friday, 10 a.m. to 5 p.m.
Volunteers are welcome, and volunteer hours for things like Beta Club members and Confirmation candidates are encouraged. For information on volunteering, call the Agape Thrift Store at 265-7170 or Deacon Caruso at 552-3800.