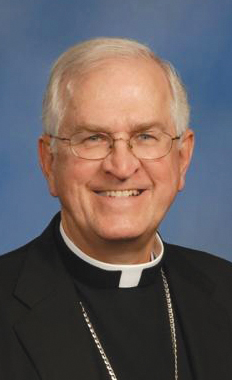 The coverage of Pope Francis' three-day visit to the Holy Land was excellent. What a whirlwind visit it was — meetings with leaders of Israel and Palestine, visiting the holy shrines, praying at sacred walls and walls that separate, embracing rabbis and imams, inviting presidents of Israel and Palestine to join him in Rome for prayer. All of us pray for world peace and pray that these humble and yet bold steps will bear fruit.
Because of the flurry of activities, what may have been lost was the historic meeting and joint statement of Ecumenical Patriarch Bartholomew I of the Orthodox Church and Pope Francis. Their meeting recalled a similar and very historic meeting that occurred 50 years ago between Pope Paul VI and Ecumenical Patriarch Athenagoras.
In anticipation of their meeting, I joined with Archbishop Demetrios, primate of the Greek Orthodox Church in America and chairman of the Assembly of Canonical Orthodox Bishops of the United States of America, to issue a statement of support for their coming together. Go to this link to my blog to view my greeting in case you didn't see it: www.archlou.org/jerusalem.
With great interest I read the "Common Declaration" that they signed in which they pledged to continue on the path towards unity between the Catholic and Orthodox churches. They addressed so many important issues: working together to protect human dignity and the family; building a just and humane society; safeguarding God's creation; the right of religious freedom; and seeking the reconciliation and unity of the human family whilst fully respecting legitimate differences.
Then there was the core statement: "Our fraternal encounter today is a new and necessary step on the journey towards the unity to which only the Holy Spirit can lead us, that of communion in legitimate diversity." Because we often rightly speak of cultivating diversity as a gift, I was struck by the phrase "legitimate diversity."
As the great celebration of Pentecost approaches, we are preparing for a special Pentecost Mass in which the communion with Christ in the midst of diverse gifts is seen in all its riches. I discussed in my last column how people can come together in a way that unites in a lasting and just peace and also in a way that divides because the coming together is not based on truth and charity. I contrasted the destructive Tower of Babel in which people sought their own gain — a false diversity — with the first Pentecost, which reflected the true breath of the Holy Spirit. Pentecost brought together all cultures who heard the Good News in their own languages. Unlike Babel, in which the tower was self-centered and promoted the individual above the truth and so divided, Pentecost united.
Sometimes I hear from people who are impatient with what seems such a slow process of seeking unity or being in communion in Christ. They would like to wipe away differences that stand in the way of a full embrace. However, there is a great wisdom in the phrase that the two great leaders used: communion in legitimate diversity. Here is stated the Vatican Council II's rejection of a syncretism that disregards doctrine. The goal of unity must not be at the expense of the richness of legitimate diversity that includes many aspects of the truth, including dogma.
Recently I read a fine book by Father Robert Imbelli entitled Rekindling the Christic Imagination: Theological Meditations for the New Evangelization.
In one section he gave some time to the writing of the Catholic novelist of the South, Flannery O'Connor, whose essays from The Habit of Being contain some provocative words on dogma and good relationships. In this age in which some see dogma and doctrine as "sticks in the mud" holding back progress to unity, she sees them as the guarantors of lasting and just unity. Let me quote from Father Imbelli: "Flannery O'Connor once wrote: 'Dogma is the guardian of mystery. The doctrines are spiritually significant in ways that we cannot fathom.' … She understood that dogmas and doctrines are mystagogic: they point us in the direction of the inexhaustible Mystery and invite us to ponder more fully that we may have life. They are not roadblocks, but guardrails that direct our journey safely."
It is with these guardrails that Pope Francis and Patriarch Bartholomew seek greater cooperation and, God willing, full unity. They are aware that their care in seeking unity in legitimate diversity is building on a solid foundation. I have great hope that they will lead the churches — Roman Catholic and Orthodox — along a path of deep collaboration for the good of society and culture as we seek the path to lasting unity.
Hope in the Lord is a column usually published twice a month by Archbishop of Louisville Joseph E. Kurtz.