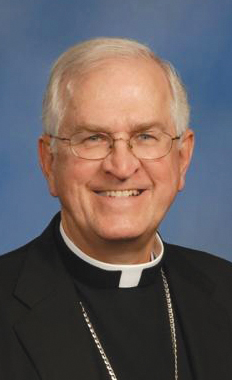 The church ever reforms. 
The Latin phrase is: ecclesia semper reformanda.
I recall how often it was used during the proceedings of the Second Vatican Council in the 1960s. Leaders in the Church acknowledged that the purity of the church comes from Christ, whose body we become. At the same time, the church is comprised of human beings who remain imperfect — in need of constant intellectual, emotional and spiritual purification. 
This reality has been driven home with recent news that grieves all of us as we witness the sad reality of Archbishop McCarrick, a prelate in the United States. Archbishop McCarrick and other church leaders throughout the world have harmed vulnerable individuals and have caused deep pain and scandal. Together, we pray for our Holy Father, Pope Francis, as he seeks to make bold decisions for the good of the church and for those faithful who have been harmed. 
These events have brought to mind the importance of continued purification and ongoing formation in Christ in every corner of the church.  Soon, the Archdiocese of Louisville will take part in a review of our compliance with the "Charter for the Protection of Children and Young People," to develop a safe environment within our Archdiocese and parishes. Our commitment to protect young people against abuse and to foster chastity in all aspects of church life must continue to be constant and bold.
It strikes me that recent efforts to build a culture of formation and reform is all around us. Earlier this summer the priests of the Archdiocese met at Saint Meinrad for our annual assembly. The topic was building a life that is healthy, happy and open to serving others. I commend Father Matthew Hardesty for his work in collaborating with Father Jeff Shooner for the good of our priests. I also am happy to announce that Father Bill Hammer will now oversee the work of ongoing formation for priests, and I ask for your prayers as he begins this effort. 
In addition, this week the seminarians from the Province of Louisville (the four dioceses in Kentucky and three in Tennessee) will gather at Barren River State Park in order to deepen their solidarity and commitment to being formed in the image of Jesus Christ. During this same week, 100 lay leaders from throughout the Archdiocese will gather at Saint Meinrad to engage in prayer, formation, and leadership development as they deepen their commitment to Christ through their pastoral ministry.
Just last week, I traveled to Omaha, Neb., to speak to more than 150 married couples who serve Catholic Engaged Encounter, and I witnessed their lively commitment. Later, I traveled to Philadelphia to conduct a retreat for more than 40 priests at my alma mater, Saint Charles Seminary, who were again seeking to deepen their commitment to Christ and His Church.   
The process of forming and reforming ourselves in Christ, which has been a challenge and opportunity for every age within the church, is both an individual and a communal responsibility for all Catholics. Those of you reading this column right now and the other articles in this week's "The Record" are participating in such an act of ongoing formation.
Please pray for me, for our priests and religious and for all of the faithful of the Archdiocese that we might continue to purify our lives in order to embrace our vocation in Christ and serve others in His name. The church is truly ecclesia semper reformanda.