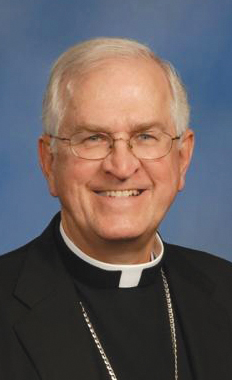 This Friday, December 14, will mark the first anniversary of the death of our beloved Archbishop Thomas C. Kelly. This edition of The Record features coverage of the special historical display in the Patterson History Center (across from the Cathedral). Special thanks to our archdiocesan archivist, Father Dale Cieslik, and those who assisted him in creating this display.
As I prepare to celebrate noon Mass at the Cathedral on December 14, I remember my friendship, admiration, and gratitude for Archbishop Kelly. I miss his presence and his counsel very much.
A few months after his death, Norma Merrick asked if I wanted to read the letters that he wrote to his mother over the 30-year period from the time he left home to the time his mother joined him to live in Louisville. Norma, so faithful for three-plus decades to him and to so many, including me, arranged his letters — including the first from his time as a young Dominican novice — in two large binders. It seems that his mother was very diligent in keeping these letters, which now are a permanent part of archdiocesan archives.
Of course, I was happy to have the opportunity to read these letters and, armed with two big albums, spent one of the most enjoyable and deeply moving evenings — about four hours in all — that I have experienced in quite a long time. The letters tell the tale of a person whom the people of the Archdiocese of Louisville came to know and love as he served as leader and friend for more than a quarter of a century. As I read the letters, I discovered the man whom we all know: a man of great charm and humor and a man of great intelligence and deep, humble faith. It is so good to remember Archbishop Thomas
Cajetan Kelly as his first anniversary of death nears and to celebrate the Holy Eucharist on Friday, both praying for the faithful repose of his soul and praying in gratitude for his great gift among us, a legacy that lives on.
It is quite a coincidence that this also is the time of the 75th anniversary of the Diocese of Louisville becoming an Archdiocese and the anniversary of the Province of Louisville being established. This canonical event coincided with the establishment of the Diocese of Owensboro. Bishop Medley, along with Bishop Emeritus John McRaith and the faithful of Owensboro, had a wonderful celebration last Saturday. We congratulate our neighbors to the west and join them in giving praise to God. Holy is God's name!
It is hard to believe there are so many celebrations touching the seven dioceses that make up the Province of Louisville. Of course, we are still basking in the bicentennial celebration of Bardstown, now Louisville, becoming a diocese. Who could forget the Mass at Slugger Field and the one in front of the Basilica of St. Joseph Proto-Cathedral? The wonderful national welcome given to our Holy Father in Washington, D.C., and in New York as we recalled Baltimore's establishment as an Archdiocese. And the 1808 formation of the dioceses of Bardstown, Boston, New York and Philadelphia also was memorable.
To complete the listing of celebrations, next year Nashville will be 175, Covington 160, Lexington and Knoxville will mark their silver (25th) anniversaries — and just a year ago Memphis was 40.
Some have asked exactly what a province is. Canon 431 says it well: "Neighboring particular churches are to be brought together into ecclesiastical provinces limited to a certain territory in order that the common pastoral activity of the various neighboring dioceses may be promoted in accord with the circumstances of persons and places and in order that the relationships of the diocesan bishops among themselves may be more suitably fostered."
The see of a province — in the case of Kentucky and Tennessee, Louisville — is called an Archdiocese, and the Archbishop is known canonically as the metropolitan. (Before we became an Archdiocese in 1937, the see city was Cincinnati, and before that, Baltimore.)
When I was appointed archbishop in 2007, I recall asking Archbishop Kelly exactly what it means to be an Archbishop or metropolitan of a province of dioceses. In his typical fashion that I described above as charming, humorous, smart, humble, and faithful, he quickly answered: "It means you are to keep unity among the bishops and the dioceses without getting in the way!"
May Archbishop Kelly rest in eternal peace, and may the Church throughout the Province of Louisville, guided so ably by him for 25 years, prosper and grow. The holy season of Advent, that time of hope and anticipation, is such a great time to give thanks!
Archbishop Joseph E. Kurtz