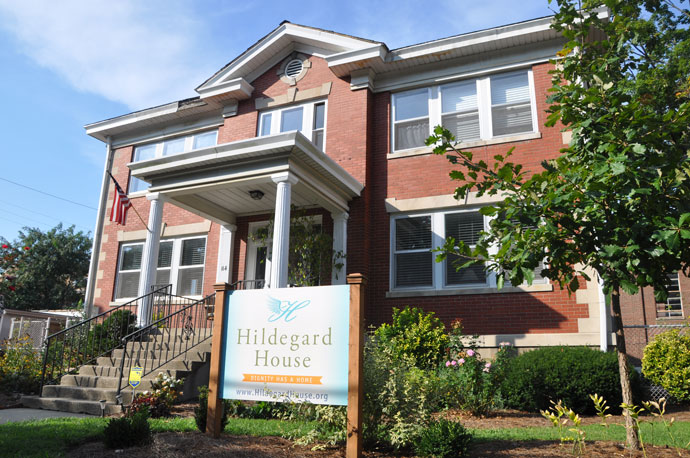 By Jessica Able, Record Staff Writer
On Adams Street in Louisville's historic Butchertown neighborhood sits a two-story house where individuals may come to die with dignity.
For many years, the home housed Ursuline Sisters who taught at the now-closed St. Joseph School. Now the home is known as Hildegard House and provides short-term care to those in the final stages of life who have no home or loved ones able to care for them — all at no charge to residents.
Hildegard House, which welcomed its first resident this summer, provides compassionate care so that even the most vulnerable can die with dignity, said Karen Cassidy, the executive director. The ministry's motto is "dignity has a home."
An individual must have a home and caregivers in order to use services provided by hospice, Cassidy noted.
"What we do is provide a home and family at the end of their life so the residents can have access to hospice services available to them," she said. "We don't want anyone to die alone so we provide care 24 hours a day."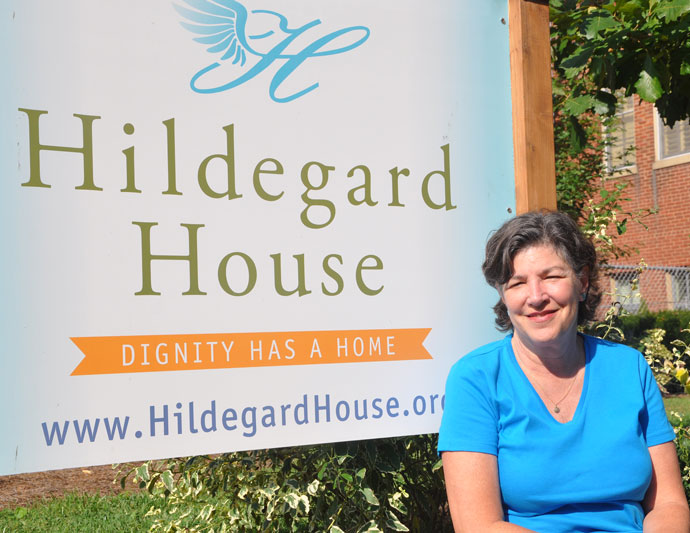 Cassidy, who founded the home, spent her career as a nurse practitioner and for many years worked in palliative care.
"I started to see a number of people being discharged that were at the end of their life," she explained in her sunlit office at Hildegard House. "Many did not have a home or family. It was distressing."
The idea to open a home for these patients began to percolate a number of years ago. According to Cassidy, there are about 50 of these "comfort care homes" in the U.S. By her estimation, Hildegard House is the first one in Kentucky.
The house functions as "simply a home," Cassidy said, with volunteers known as "compassionate companions" who act as caregivers during a resident's final days.
The large home evokes a tranquil atmosphere where the comfort of the residents takes top priority. There are three bedrooms on the first floor. With the exception of a hospital bed, the rooms resemble a typical bedroom, complete with good linens and a television. Sunlight streams in through large windows and illuminates the home's original woodwork.
Hildegard House has more than 300 volunteers — ranging from those who perform household tasks, such as cleaning and laundry, to compassionate companions who provide personal care and friendship.
Dotty Lewis serves as one of the compassionate companions. Lewis, a parishioner of the Church of the Ascension, said Hildegard House's purpose tugged at a place in her heart.
"It's a beautiful concept," Lewis said. "It's a place of calm and peace. It's something our archdiocese is very blessed to have."
Lewis said she accompanied her mother, father-in-law and mother-in-law when they passed away and described the experience as "a sacred journey."
"I can't imagine dying without someone holding my hand. I can't imagine crossing over without someone being with you," said Lewis, whose husband, Deacon John Lewis, serves at Ascension.
Since the home opened to residents in mid-July, Cassidy said volunteers have cared for six individuals.
One of those individuals was Linda Diane Sharp Brown, who died Aug. 20. Brown suffered from stage 4 pancreatic cancer.
Sheree Bruce, Brown's daughter, described Hildegard House as "a gift from God." Bruce, who lives in Providence, R.I., was unable to come to Kentucky to care for her mother. The dying woman's husband was unable to care for her either, due to a serious illness of his own.
"The staff is very nurturing. My mother was anxious the day she arrived and they read spiritual passages to her," Bruce said during a phone interview. "If I had questions or needed a shoulder to cry on, they were there to explain the process. I just knew that God had really blessed us."
Hildegard House is for the 11th-century Benedictine mystic St. Hildegard of Bingen. She was canonized in 2012 and named a doctor of the church by Pope Benedict XVI. Cassidy, an oblate of the Benedictines, finds inspiration in the saint whose order is known for its hospitality.
The number of people cared for at Hildegard House and the growing number on a waiting list demonstrate a need in the community for a "comfort care home," said Cassidy, who attends St. William Church.
"We are not duplicating services. We are filling a gap in care in the community," she said, noting that hospice often calls with referrals.
Hildegard House recently purchased the property from St. Joseph Church. Cassidy said that in the coming months, a capital campaign will begin in order to pay off the mortgage and to assist with the day-to-day expenses of operating a large home.
Cassidy said the home will likely limit itself to three residents at a time.
"We want to keep it small, like a home," Cassidy said. "The idea is to expand to where there is need, perhaps in the South End."
Many of the residents of Hildegard House have not had easy lives, Cassidy said.
"So it's nice at the end of their life to care for them, to pamper them and give them some dignity," she said. "It gives them a sense of security and peace at the end."
To learn more about Hildegard House, visit hildegardhouse.org.