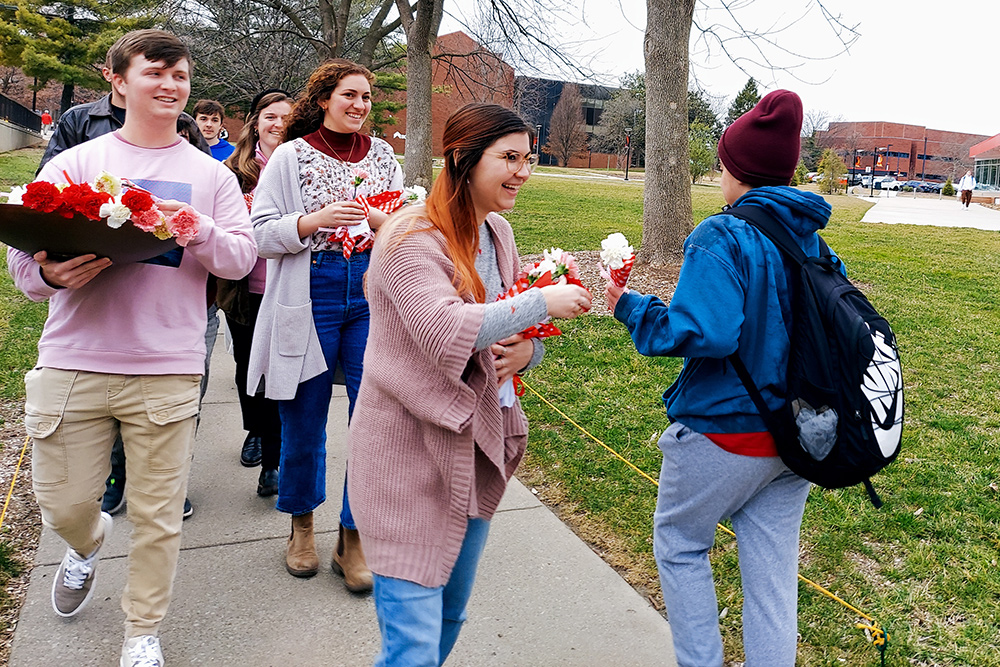 ---
Handing out bright carnations with short notes at the University of Louisville on St. Valentine's Day, students involved in Catholic Campus Ministry carried out a mission to share God's love with other students.
The outreach idea bloomed among about 50 UofL students who attended the SEEK23 conference in St. Louis, Mo., Jan. 2-6. The annual event, sponsored by the Fellowship of Catholic University Students (FOCUS), drew about 17,000 young Catholics from around the country. The conference is designed to revive students' faith and included prayer, sacraments, keynote presentations and worship.
Cortney Bolt, a UofL senior who attended the conference, helped organize the flower giveaway.
"SEEK does a really good job at lighting your faith," she said. "If you came with doubts or feeling burnt out, it does a good job of letting you know you're made for a relationship with God."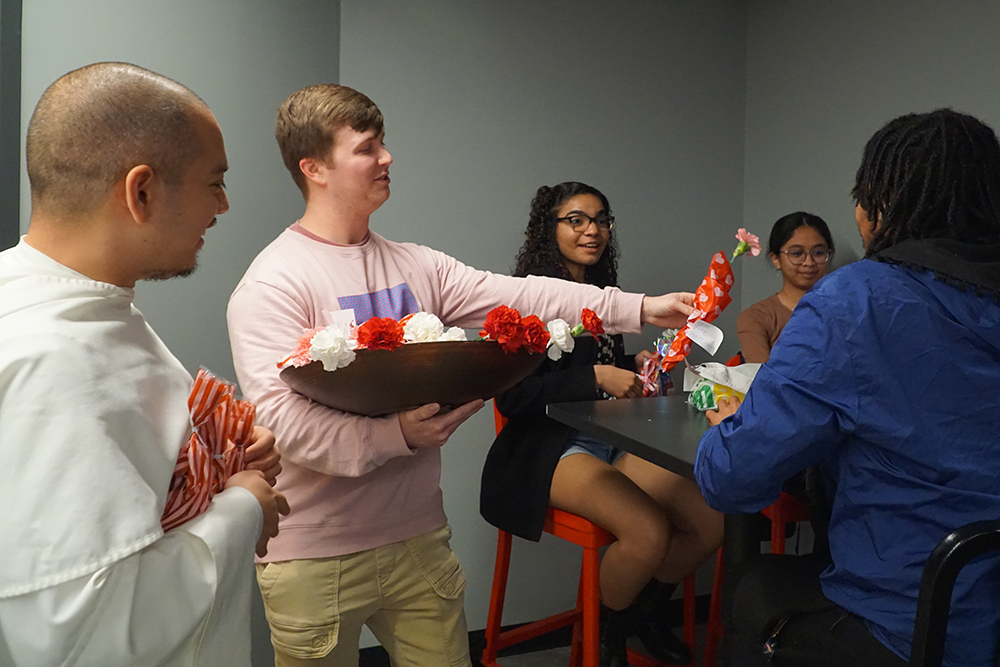 ---
She and her schoolmates returned re-energized and "ready to do the work" of telling people about Christ and helping others on their "journey to help find him," she said.
The St. Valentine's Day flower giveaway provided an opportunity to start that work.
"The idea was for us to go out to different areas of campus and tell people: 'We're here,' 'We want to be friends,' and we want to love them."
Dominican Father John Baptist Hoang, the chaplain for Catholic Campus Ministry at UofL, said the ministry's mission is to share Christ's love with every person on campus.
"It's simply doing that. … Forming people to know Christ and, after they graduate, move into parish life with a missionary spirit," said Father Hoang in a recent interview.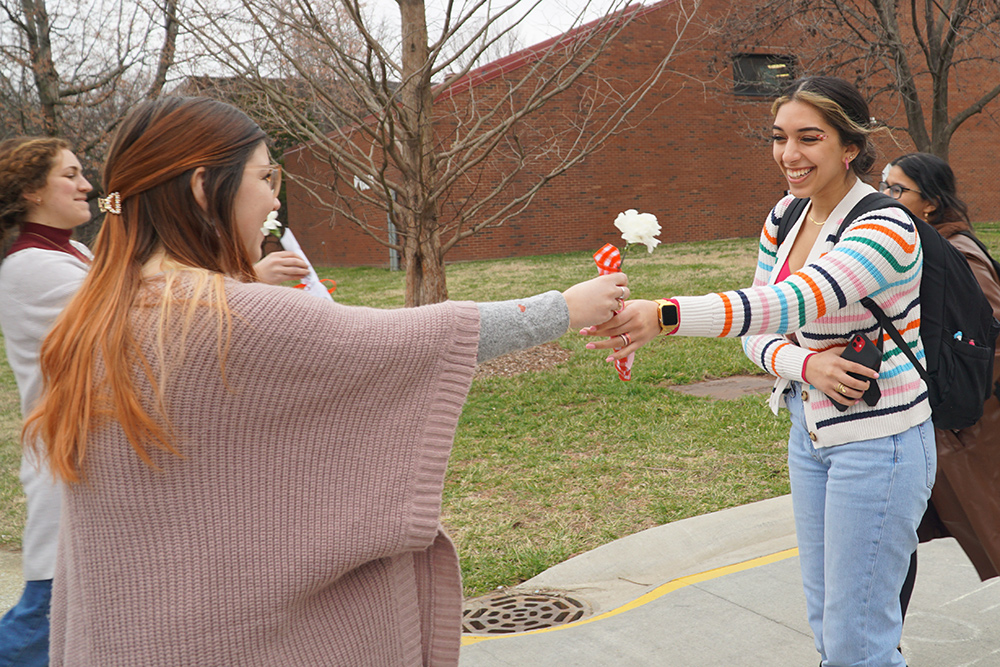 ---
The SEEK conference, he noted, gives participants a "sense of spiritual renewal." The conference offers powerful experiences, he said, such as adoration, which drew thousands during the conference.
"They experience how much God loves them," said Father Hoang. "They come back with renewal. … You see that joy, you can see the students wanting to love one another and love the students who aren't Catholic. They want to be sent further into mission."
Jack Garvey, a UofL junior who has been active with campus ministry since his freshman year, helped hand out carnations on St. Valentine's Day. He also attended the five-day conference.
Being present with thousands of others who love Jesus was a "joyful feeling," he said. During adoration on day three of the conference, he was struck, he said, by the insight that "We all wanted to be friends with Jesus and that we had the chance to live that together."
---
He said the group returned "energized and wanting to put the spiritual energy" they received at the conference into their ministry on campus.
Their energy was visible in the students' smiling faces as they handed flowers to passersby. That experience on St. Valentine's Day came with a feeling of "deep joy," he said.
"You can see it on everyone's faces," he said of his schoolmates who helped to give the flowers away.
The University of Louisville Catholic Campus Ministry offers weekly Mass, dozens of Bible study groups, adoration in the Blessed Sacrament Chapel and various outreach programs, including a weekly Praise, Pizza and Theology event.
To learn more about the ministry, visit https://uoflcatholic.org/.