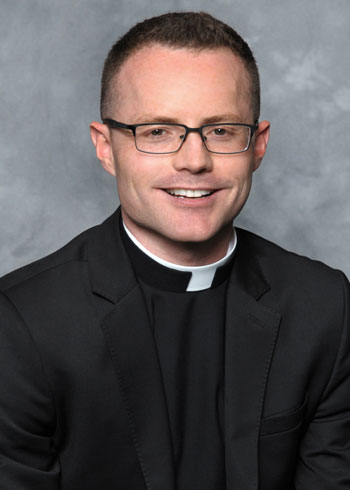 By Jessica Able, Record Staff Writer
In the same spot where he received the sacraments of initiation from Archbishop Joseph E. Kurtz in 2008, Deacon Casey Sanders will receive one more sacrament — holy orders.
Deacon Sanders, 34, began his journey in the Catholic Church when he was baptized, confirmed and received holy Communion at the Cathedral of the Assumption nearly a decade ago.
This Saturday, May 27, at 11 a.m., he will be ordained a priest for the Archdiocese of Louisville, along with Deacon Michael Martin, at the Cathedral in downtown Louisville by Archbishop Kurtz.
Shortly after his conversion and entrance into the Catholic Church in 2008, Deacon Sanders said he began having thoughts of the priesthood, but initially dismissed them.
"The idea kept coming to my mind but I kept dismissing it. I had only been a Catholic for a year at this point," he said during an interview last week. "It seemed a little ambitious."
A native of Leavenworth, Ind., Deacon Sanders said as a youth he sometimes attended worship services with a friend at a Protestant church.
"That kind of planted a seed of faith in my heart. I held that near and dear throughout my youth and college," he said.
Though his parents didn't take him or his twin brother, Cody, or his older brothers, Matt and Tim, to church, Deacon Sanders described his parents as "models of moral integrity."
He attended the University of Evansville and earned a degree in mathematics in 2005. Fast forward a couple of years later and Deacon Sanders found himself living in downtown Louisville with good employment as an actuary at Humana.
He became intrigued with the Catholic faith after some conversations with Juan Arroyo, a colleague. Arroyo would end up becoming Deacon Sanders' sponsor and Godfather when he entered the church in 2008.
After his conversion, Deacon Sanders said he began to ponder what God was calling him to do as a Catholic.
"I was working at Humana doing what I aspired to do. Everything was looking up. I
had fulfilled my dream, I thought," he said.
But, each evening he arrived home with a "sense of emptiness," he said.
"There was something that was missing. Although Humana was a great place to work, there was something more out there that I was looking for," he said.
So Deacon Sanders began attending eucharistic adoration and daily Mass. He also began meeting with Father William Fichteman, who at the time was rector of the Cathedral.
"Father Bill Fichteman encouraged me through all of that. He helped me consider if that was what God was calling me to do," he said.
While still remaining employed, he moved into a discernment house at St. Bartholomew Church in Buechel, where Father Peter Do was pastor at the time.
"I was able to see what priests do, how normal they are. I began to think 'Maybe this is something I could do,' "
he said.
Deacon Sanders entered seminary in 2011. In his first years of seminary, his twin brother, Cody, and mother, Myrna, both entered the church.
Following Deacon Sanders' diaconate ordination in 2016, the first baptism he administered was that of his father, Steve, who entered the church at the Easter Vigil.
"To see that somehow the example I set, however unintentional, brought them into the church, is a witness to God's grace and his providence," he said.
As a priest, Deacon Sanders said he is looking forward to administering the sacraments, particularly that of reconciliation.
"As a convert, I have great appreciation for the gift of that sacrament," he said. "As someone who struggled in faith and spirituality up until my conversion, I felt that I didn't have anyone to talk with or connect with. I want to let people know they are not alone in their struggles."
Deacon Sanders earned a bachelor's degree in sacred theology from the Pontifical University of St. Thomas in Rome in 2016. He recently completed his first year of a licentiate program in canon law at the Catholic University of America in Washington, D.C.
He has been assigned as associate pastor of St. James Church in Elizabethtown, Ky. His first Mass of Thanksgiving will be May 28 at 3 p.m. at St. Michael Church, 3705 Stone Lakes Drive.