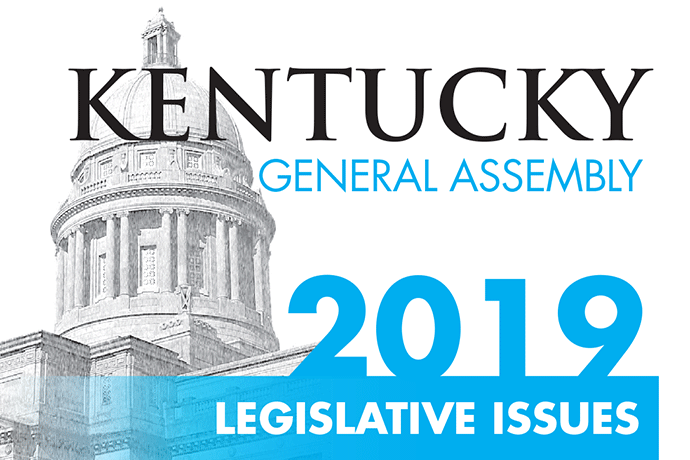 By Jessica Able, Record Staff Writer
Catholics interested in legislation expected to be considered during the 2019 Kentucky General Assembly are invited to attend a Catholics @ The Capitol event later this month.
The Catholic Conference of Kentucky, which represents Kentucky's four bishops in matters of public policy, will host the programs at parishes across Kentucky. The informational sessions will "examine political concerns and advocate for laws and policies that reflect Gospel values and the social teachings of the church," said a letter inviting individuals to attend the event.
In the Archdiocese of Louisville, a Catholics @ The Capitol gathering will be held Jan. 28 at 7 p.m. at Holy Family Church's Saffin Center, 3926 Poplar Level Road.
CCK staff members will introduce issues they've identified as priorities during the 2019 General Assembly, which convened Jan. 8. After four days of organizational meetings, the legislature entered a recess. Lawmakers will return to Frankfort Feb. 5 for the rest of this year's 30-day session.
Archbishop Joseph E. Kurtz will begin the gathering with prayer and provide opening remarks. Fred Whittaker, an educator at St. Francis of Assisi School, will deliver remarks and Jason Hall, executive director of the CCK, will deliver a keynote address. Local legislators will also be invited.
"This is an opportunity to become informed on bills we are looking at. We hope this is a stress-free, easy way to interact with legislators," Hall said in an interview last week.
Now is the perfect time to call or meet with your representative since 2019 is a short session for the Kentucky General Assembly, Hall said. Many legislators returned to their home districts during the recess period and want to connect with their constituents, he said.
Hall said there are a number of issues that the bishops consider a priority this session. They include:
Scholarship tax credits
The CCK would support legislation that creates tax credits for businesses and individuals who make a donation to a scholarship-granting organization, such as the Catholic Education Foundation, to provide need-based tuition assistance to non-public school students.
A bill has not yet been filed but one is expected once lawmakers return from recess, said Andrew Vandiver, the associate director of the CCK.
Similar measures proposed in previous years have garnered bipartisan support in both the House and Senate but have failed to pass. Vandiver said he is hopeful the measure will pass this session.
"I think people have come to recognize this isn't a trivial issue; this is a child's education. This is not an issue that can wait another year or another two years. It needs to happen now," he said in an interview law week.
The CCK also encourages parents, educators, students and elected officials to join them in Frankfort Jan. 24 for the Kentucky School Choice Week Rally.
The rally will be held at 10 a.m. at the Capitol.
Workplace protections for mothers
The CCK supports Senate Bill 18, which would require employers to make "reasonable accommodations" for pregnant women in the workplace.
"For the CCK, this is both a workers' rights issue and a pro-family issue. Data from pro-life groups show that economic anxiety is a major factor for women who are considering an abortion," Hall said.
Death penalty
The CCK also supports House Bill 115, a proposal that would abolish the death penalty, and Senate Bill 17, which would prevent the death penalty from being used in capital cases where the defendant has been diagnosed with a serious mental illness.
"It's not only a question of morality of the death penalty, it's something that we are choosing to continue within a very flawed system even though it's unnecessary for public safety," Hall said.
Last August, Pope Francis revised the Catechism of the Catholic Church to say that the death penalty is no longer admissible under any circumstances. The revision to section 2267 in the catechism, which took effect Aug. 2, calls capital punishment "an attack on the inviolability and dignity of the person," and commits the church to work "with determination" for the worldwide abolition of the death penalty, according to Catholic News Service.
Following other
measures
CCK leaders are also monitoring a number of other bills and issues, including Senate Bill 9, known as the fetal heartbeat bill. The bill would ban abortion once a fetal heartbeat is detected, usually around six weeks into a pregnancy. The CCK is also following Senate Bill 50, which would require clarifying a law related to reporting abortions induced by medication.
Catholics are urged to attend a Catholics @ the Capitol event and contact their legislators about these issues at 800-372-7181. The operator can help callers identify their senators or representatives.
The public can read these bills at lrc.ky.gov.