By RUBY THOMAS and KAYLA BENNETT
Ursuline Sisters of Louisville Kathleen Neely and Lee Kirchner spoke to about two dozen Sacred Heart Academy students March 9, about how their ministry over four decades in Peru changed their perspective. 
The presentation was one of various activities on the Ursuline campus in celebration of Catholic Sisters Week, observed March 8-14.
The Ursuline Sisters started their Peruvian mission nearly 60 years ago, answering a call from Pope Paul VI who'd ask religious congregations to serve abroad, said Sister Kirchner.
"We weren't prepared for a foreign mission, but it was an awakening," she told the Sacred Heart students.
In 1964, Sister Kirchner and three other Ursuline Sisters traveled to the South American country known for the ancient Incan archeological site Machu Picchu.
They arrived in Carmen de la Legua in Callao, a coastal city in Peru. There was no running water, electricity, sewer systems, roads or basic medical care, she said.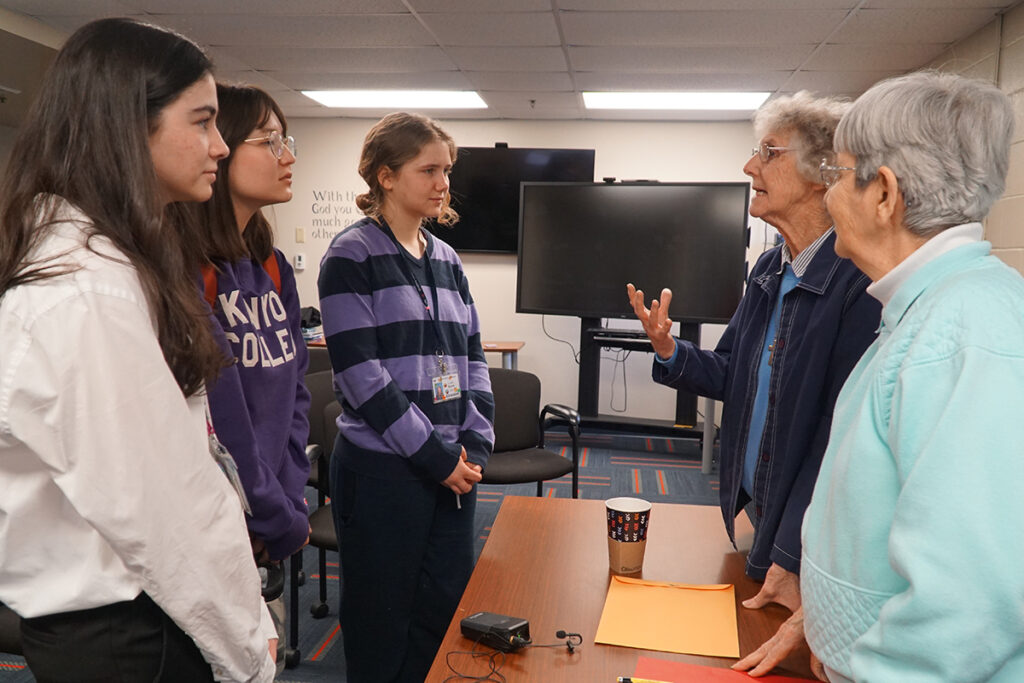 Sister Kirchner was young and "eager to save the world," but it was the Peruvian people who saved her and "gave new meaning to my vocation," she said.
"We went there thinking we had the answer to their poverty. … The encounter was an eye-opener to a vocation I didn't know I had. They gave me a new spirit and a new insight of what Jesus wanted us to do," she told the students.
While living in Callao, she said, she realized that Jesus wanted her and her fellow sisters to learn from the Peruvian people, who knew best what poverty was.
Sister Kirchner and her companions weren't deterred by the poverty they encountered or by their lack of resources. A few months after their arrival, the sisters started working to open a Catholic school. A year later — with "a box of chalk and an eraser" — the sisters opened the Santa Angela Merici School, she said. It was the only Catholic school in the area and the first co-ed school.
Sister Neely shared with the group that she traveled to Peru in 1968. She was welcomed and found the Peruvian people to be encouraging and accepting. They taught her their language and were patient as she learned.
"I felt accepted and affirmed. Together we did things we never thought we could do," she said. Sister Neely worked with the deaf community in Lima, Peru's capital city. She also taught special education to children with mental and physical disabilities in an area outside of Lima.
Sister Neely and Sister Kirchner later served in the Andes mountains. There the sisters served farm families, offering pastoral ministry and catechesis.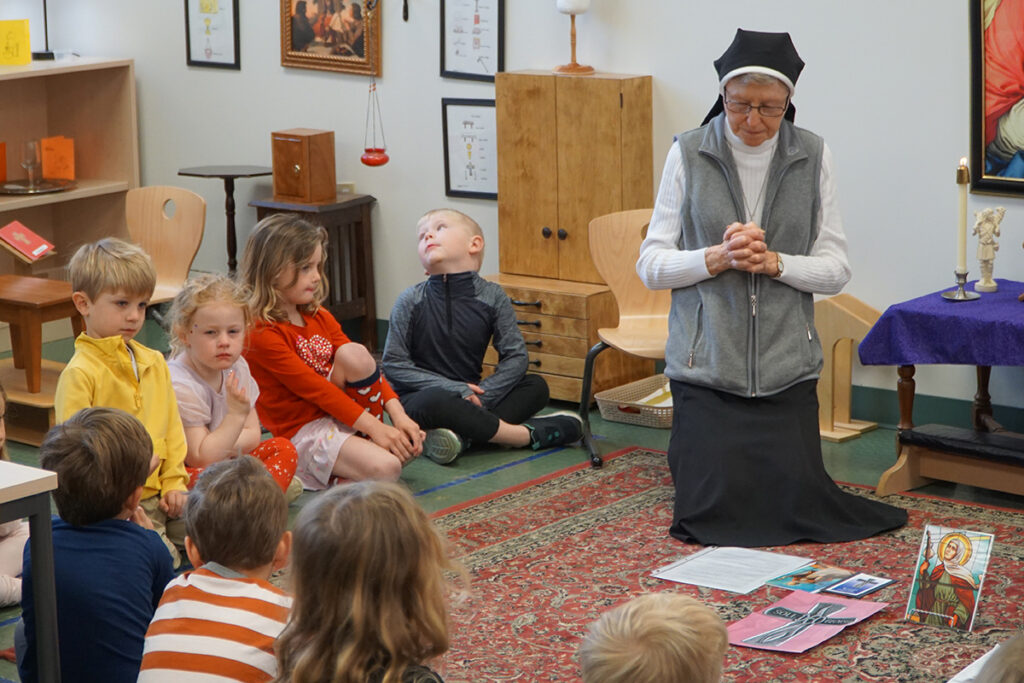 Sister Neely also worked with physically disabled individuals at the Saint Angela Merici Rehabilitation Center, which she helped to found in San Miguel province, a rural area.
After serving for more than four decades each, Sister Kirchner and Sister Neely returned to the United States. Sister Neely returned in 2020 and Sister Kirchner has been back since 2005. The lessons they learned while serving in Peru changed them, they said.
"I think of myself as part of a global family," said Sister Neely. "We're one family. It doesn't matter our skin color or what we look like."
That's an important message to teach and to model for children, she noted.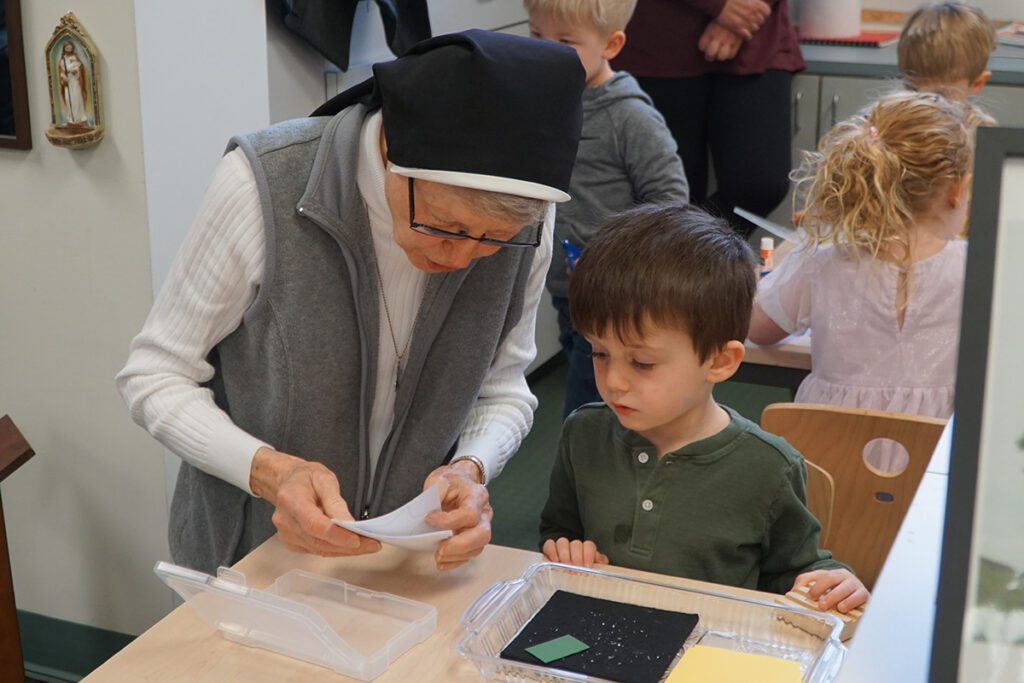 Also in observance of Catholic Sisters Week, Sister Mary Jo Gramig spoke to preschoolers, kindergarteners and first graders about her call to religious life and Sister Ruth Ann Haunz gave a presentation to Sacred Heart Model School seventh graders on her ministry with migrant communities.
Sister Gramig teaches the Catechesis of the Good Shepherd to Sacred Heart Preschool and Sacred Heart Model School students two days a week and has established a rapport with them, she said.
"They're comfortable here and I'm happy to be gifted the opportunity to work with them," Sister Gramig said. "They're faith-filled people."
Catholic Sisters Week began in 2015 as part of National Women's History Month, which is observed in March. This year's theme — "Celebrating Traditions, Changing the World" — calls on congregations to "consider telling the story of how we are addressing the intersectionality of Racism, Forced Migration and Climate Crisis," according to the Ursuline Sisters.