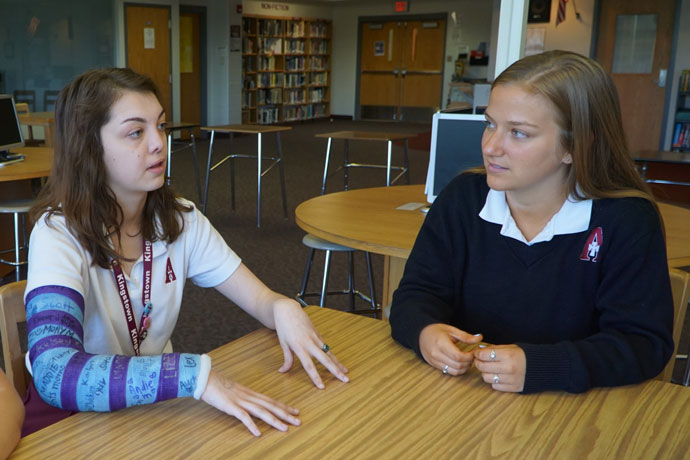 By Ruby Thomas, Record Staff Writer
Comforting young surgery patients on the African continent typically isn't on the list of most popular ways to spend one's spring vacation.
But that's exactly how Holly Zoeller, a junior at Assumption High School, spent her time.
Zoeller traveled to Madagascar, an island nation in Southeast Africa, April 5 to 16 with Operation Smile, an international non-profit organization that provides surgery for children and adults suffering from cleft lips and cleft palates.
According to operationsmile.org, these are facial and oral deformities that occur when the tissues that form the upper lip and palate don't fuse properly during development inside the womb.
Zoeller learned about Operation Smile last summer when she attended the International Student Leadership Conference in Orange County, Calif., sponsored by the group. She learned about the organization's work, how to start a club and what it took to go on a mission abroad.
She returned so inspired, she said, that she started an Operation Smile Club at Assumption at the beginning of last school year. The club aims to create awareness and raise funds to provide surgery for individuals suffering from the deformities.

"I was hoping for 50 people to show up (at the club's first meeting) and 200 did," Zoeller said. "I was in tears."
The young women held a bake sale last fall that raised $2,000, enough to cover the cost of surgeries for eight children. Zoeller turned to her family and friends to raise money to make the mission trip possible, she said.
Zoeller said during her time in Madagascar, close to 400 patients — some traveling from very long distances — came to the location where Operation Smile was screening for surgery.
She entertained young patients, she said, with coloring books, playing games and blowing bubbles while they waited for hours to go through the application process. She also served by making sure they were comfortable following the surgery.
"I've never felt closer to any human being than when you hold a kid's hand as they go through the surgery," she said. "You see their parents cry when they come and see their face for the first time. It's very intimate."
According to OperationSmile.org, in one of every 500-750 births worldwide a child is born with a cleft. That's the equivalent of a child being born with a cleft every three minutes.
Babies born with a cleft lip or cleft palate have a difficult time nursing or drinking from a bottle, said Zoeller. The surgery, preferably when the child is an infant, corrects this, she explained. Zoeller noted, however, that it takes up to 17 surgeries for the face to be reconstructed. Most children in developing countries like Madagascar only get one surgery.
Isabel Olliges, a junior at Assumption High School, was born with a cleft lip and palate. Olliges, who is a member of the Operation Smile Club, said it's been "cool" watching her schoolmates learn about the condition she's lived with her whole life.
Olliges, who's had 17 surgeries — including procedures to reshape her nose, repair her nasal septum and correct problems with her ears — said growing up with the condition was difficult.
When she was in the fourth grade, she said, she experienced one of the more painful surgeries, in which bones from her hip were removed and implanted into her face to make it appear more three dimensional.
"My parents are awesome. They never made me feel different," she said. "But there were always those people." Like the boy at a summer camp when she was younger who teased her and caused her to feel insecure, she recalled.
Olliges — whose final surgery will take place in December — said she found acceptance at Assumption and the club has led to many new friendships.
"People came up to me and said 'I had no idea you had a cleft lip,' " said Olliges.
Zoeller said Olliges' experience has made her instrumental in helping to build the club.
The goal for the club, Zoeller noted, is for members to keep working to raise funds and create awareness by reaching out to other high schools in the area. She'd like to see other schools start their own clubs.