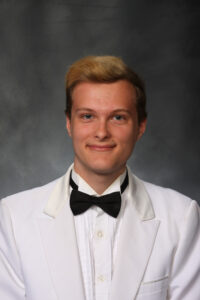 It's been three and a half years of morning routines. Once again, I dress for school, putting on my regular school khaki pants, a buttoned-down dress shirt and a tie. As I grab some breakfast and my books, I reflect on the days at a special place called Trinity High School.
On the drive, I think about this place that has shaped me in so many ways, all for the better. Trinity has offered experiences found few other places. I remember Rockin' as a freshman, a day of fun where there were no classes, but we competed in games and activities within our 10 houses. This was the day I met some of my best friends.
I thought about sophomore year, when I realized I really wasn't involved in a sport, club or activity. It was then I vowed to really get involved. I joined the speech and debate team, and my life began to change.
At my first debate competition, when I went up to the podium to give my speech, my hands were shaking, my body was trembling and sweat was pouring. The fear of what the audience would think haunted me. But after that first speech, I realized talking in front of people wasn't so bad; judges wrote positive comments, and I received a compliment from another competitor. I knew this was just the beginning.
Junior year I took the next step by joining the National Beta Club and the National Honor Society, later serving as NHS president.
I decided to study journalism and joined the school's newspaper. Since then I have interviewed many people and taken photos in front of literally thousands. I joined the Future Business Leaders of America, competing at regionals and qualifying for state.
I recall wanting to hold more leadership positions my senior year and am proud I was elected to student government, where I serve as a house captain, and accepted the position of editor-in-chief of Trinity's student newspaper and yearbook.
As I arrive in the parking lot, I look back and am just amazed at everything Trinity has given me — the challenging and rigorous education, the activity opportunities, the lessons in leadership — all in a community of brotherhood.
Throughout this year when we sing the Alma Mater, I realize that being a man of faith and character is more than just a slogan. It means gratitude, dignity, service. I love my Trinity brothers and truly can't wait to see what we will achieve in the future.