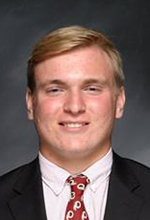 The Trinity experience is like no other. Trinity has done so much for me, as well as prepared me for my future endeavors. The second I stepped foot on Trinity's campus, I felt the brotherhood. It was the day we were assigned to our classes. Seniors immediately greeted me and asked questions about what I liked to do.
They then took us to the teachers sitting in the cafeteria. I had Señor Serrano as my teacher. He greeted my family and me with a caring smile. He made it known how I would succeed at Trinity if I put in the work. At that moment, I knew how much the teachers and students cared about each other. I knew that Trinity would be the right fit for me and the place I would be most successful.
My freshman year was an absolute blast. Trinity offered many things that allowed me to succeed while having a good time. Students participated in intramurals, Rockin', and endless clubs. Many of my friends today I met through extracurricular activities.
Teachers dedicated themselves to their students to help them succeed and reach their full potential. I remember being in Mr. Weidmar's class, and one of the students was having trouble adjusting to the new environment. He pulled him aside and by the end of their conversation, the kid was smiling and felt much better. That is what Trinity and its staff are all about. They help their students in the classroom, making sure they are as comfortable as possible.
Trinity has helped me succeed in so many ways. Whether it is in the classroom or on the football field, Trinity has blessed me with great resources.
I always loved the game of football, and I can play in college at the Air Force Academy because of Trinity. While being successful on the football field is important to obtain a chance like this, you must be even more successful in the classroom. Trinity assured that I kept my grades up so I could remain on the field. They do weekly checks before the grade deadline to make sure every student-athlete is eligible to play the game they spend their free time mastering. Success on the field is only possible with success in the classroom, and Trinity preaches that.
For me to succeed at a college preparatory school, as well as play a time-consuming sport, I must have a strong work ethic. Luckily, Trinity has helped me develop that.
With my time at Trinity coming to an end, what I am most grateful for is that if I ever need anything from Trinity, they will always be there to help me. In the future, at some point, I will need some extra support. I know that I have a strong backbone in Trinity, and I know that in my future endeavors, Trinity will always be there to support me.
Life will throw many challenges my way, but Trinity has taught me, as well as my classmates, how to handle certain situations.
Trinity is known for its slogan, "Brothers for Life." This is a lifestyle here. I know that I will always have my brothers by my side, and I have Trinity to thank for that.
Trinity, thank you for the many blessings, and for preparing me for everything life will throw at me. Go, Rocks. Trinity Forever!