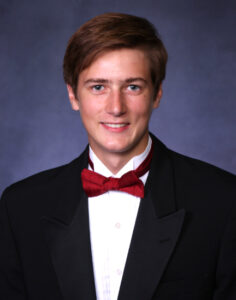 As I walked into the doors for the first time as a student at Holy Cross, I knew that this was exactly where I should be. Holy Cross is unique in many ways, including being the only co-ed Catholic high school in Louisville.
The Holy Cross experience is also unique to each person because of all the different opportunities provided to the students. Holy Cross allows you to grow spiritually, mentally, physically, academically and athletically, with an individualized experience for everyone.
In the hallways between classes you can truly see the family atmosphere at Holy Cross. You see the upperclassmen interacting with the underclassmen and the teachers standing outside their doors interacting with students.
As a senior, I can walk into any classroom and name almost every single student in the school. The opportunity to develop genuine relationships and connections to everyone in the building and creating a family atmosphere is something that Holy Cross can provide as a smaller school.
My Holy Cross experience has been a journey to grow closer to God, myself and my friends. Beginning my freshman year, I had been conditioning and practicing with the cross country team, which immediately made walking through the doors on the first day a little easier because I already knew a few upperclassmen. The relationships and opportunities gained through cross-country set the tone for the next four years.
Holy Cross allows anyone to be able to participate in any sport, club, and other extracurricular activities no matter what grade you are in.
High school is a place and time for growth while searching for yourself and your plans for life after high school. It is a four-year experience that can lead you to the next step of your life and set you up for success.
During this time of growth, it is imperative to be in an environment that encourages the development of the individual. Holy Cross is a family environment; it allows the students to grow individually as well as together as a student body, a family.
Holy Cross becomes a second home, and for some, it can be that home that is not present outside of school. I know that at Holy Cross, I could walk up to any student or faculty member and they will not only know who I am but will do everything they can to help me.
This close-knit, family environment has been something that I will forever cherish. My classmates have become my family over the last four years.
One of the most beneficial aspects of the smaller school environment is our retreat program. Because of the smaller class size, our entire senior class can attend retreat together and form an even deeper bond as a class. That does not always happen at a larger school where classes are broken up into groups for senior retreat.
We are able to make new connections, deepen relationships in the presence of God, and make memories as one class, as a family. Being able to grow together as brothers and sisters at school is such an advantage for the future. College is co-ed, work is co-ed and life is co-ed.
I will take the experiences, adventures and relationships made at Holy Cross with me throughout the rest of my life. I came into high school not knowing who I was and if I could be ready for college and the real world. I leave Holy Cross knowing I will miss the people and school, but I am prepared for college and life. I am a Cougar for life.