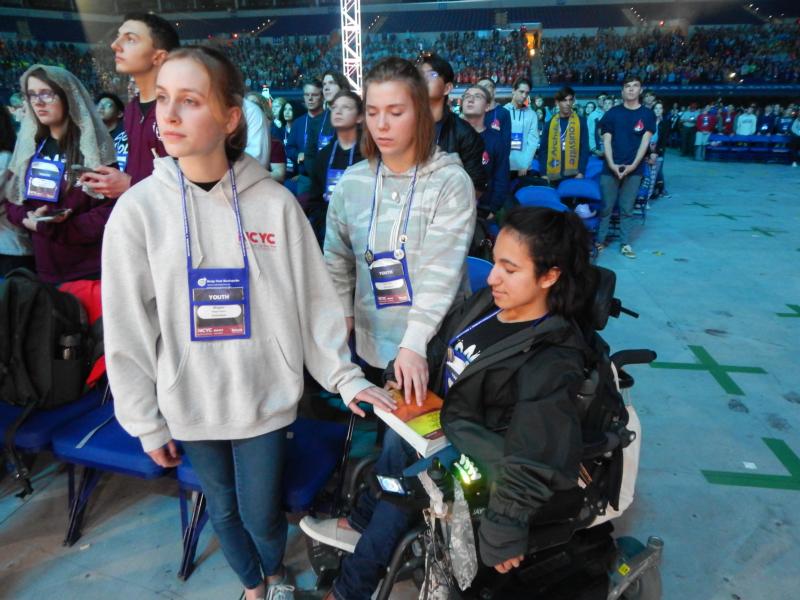 INDIANAPOLIS — Megan Davis, Elizabeth Eberhard and Allison Dible were fired up after the opening evening session Nov. 21 of the biennial National Catholic Youth Conference in Indianapolis.
Forty-eight hours later at the end of the three-day pilgrimage of faith the teenagers from the Diocese of Columbus, Ohio, admitted that their excitement had reached another level.
"It's been amazing!" Dible, a high school senior, said after the closing Mass Nov. 23 in Lucas Oil Stadium. "It's just so incredible to see so many young people, all in one space, praising God. It's just really inspiring."
"It took my breath away. I can't begin to explain how much love there is (here) — and such a beautiful community," noted Eberhard, a junior, of her fellow teens.
"Now that it's all over, I want three more days — at least," added fellow junior Davis in an interview with The Criterion, newspaper of the Archdiocese of Indianapolis. "I want more. I am super excited to go home and keep my faith up and help it continue to grow. It's going to be an adventure."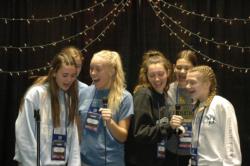 For the teenagers, who are members of St. John Neumann Parish in Sunbury, Ohio, the weekend included opening their hearts to God's word and taking time to listen to the messages shared by speakers.
It was the second time Eberhard was attending NCYC, and she was eager to share the experience with new people.
Both Davis and Dible were "excited" about seeing so many young people together living out their Catholic faith.
"I hope they go home changed," Eberhard added.
She was not alone in her sentiment.
Karle Kramer arrived at NCYC not sure what would be in store. She left with a sense of how to better live out her faith.
"I think this is the best weekend of my life," said the high school sophomore from the Archdiocese of Dubuque, Iowa. "I've met so many people, and I've gone to so many sessions about forgiveness. It really changed my perspective on forgiving people, not holding things in my heart, but opening myself up to (others') perspective."
Bren Peters, a high school senior from the Diocese of Salina, Kansas, who attended NCYC in 2017, said she too wanted to use the opportunity to "grow in my faith."
So did Matthew Uhlenkamp, a junior from the Archdiocese of Dubuque. "I came two years ago, and it was just as amazing," he said. "You learn so much and you meet amazing people."
Caden Soba and Reece Donahue literally "flipped out" at this year's NCYC.
The high school seniors from the Diocese of Helena, Montana, also attended the 2017 gathering, but this year decided that their time in the air would literally continue inside the thematic park at the youth gathering.
They both sported signs around their neck that read: "Wanna see a flip?" If passersby said "yes," they would do a backflip for them.
But there also was a catch: They asked each person to stop what they were doing and set their alarms to pray at 4:06 p.m. later that day.
"406 is the area code for the entire state of Montana," Soba and Donahue explained, "and there's a Bible verse (Phil 4:6) about praying and giving thanks at all times. Hopefully, we're going to have phone alarms going off all over Indianapolis."
Both teenagers were moved during eucharistic adoration, seeing everyone go to their knees in worship.
Donahue admitted he was looking forward to the closing Mass Nov. 23 as well.
"It's just so beautiful seeing 20,000-plus youths going down and receiving the Eucharist all at one time. It's the best!" he said.