Looking back at close to four decades of service to the Archdiocese of Louisville and members of the faithful, Kathy Shannon can only think of one word to describe it — blessed.
Shannon, who serves as pastoral associate for St. Augustine Church in Lebanon, Ky., and Holy Name of Mary Church in Calvary, Ky., will retire at the end of June after 39 years of service.
She started her work in the archdiocese as a grade-school teacher but would go on to serve in various roles, including director of religious education, business manager, youth minister, Rite of Christian Initiation of Adults coordinator and adult formation minister.
Her pastor, with whom she works closely, said, "Kathy is the heart and soul of this community, not only because of the different roles she's fulfilled. She holds people's most intimate moments in her heart, from weddings, baptisms and funerals," said Father Mark Hamilton. "She's lifted up generations of people from the same families in good times and hard times."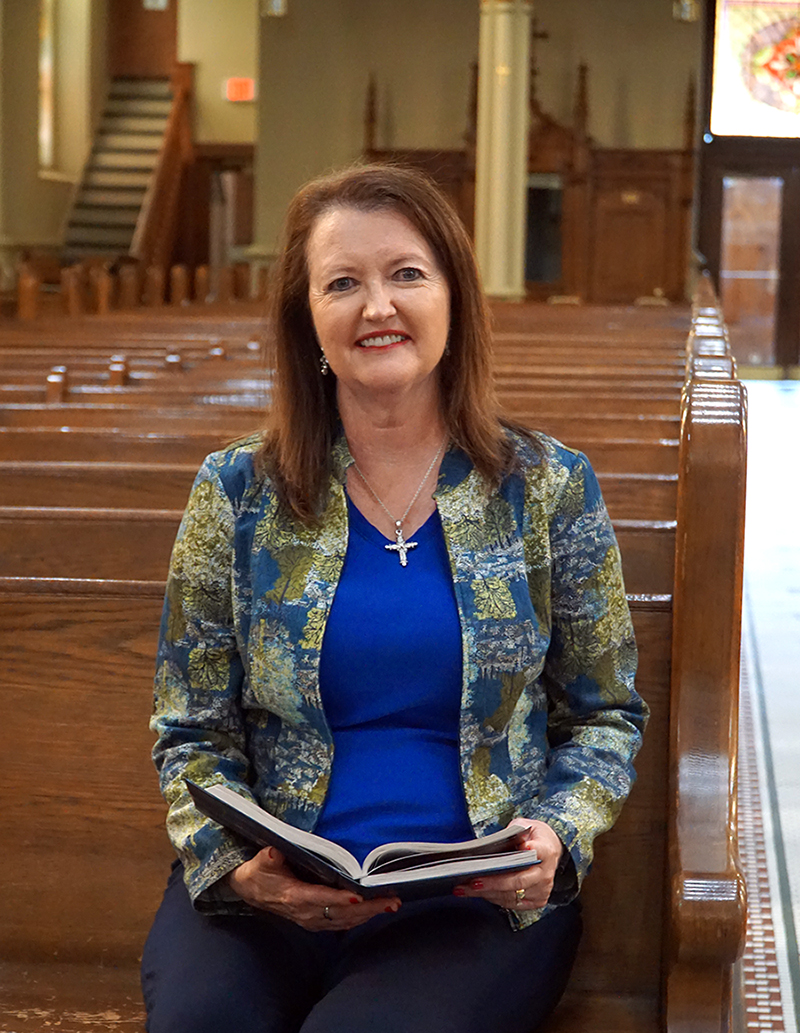 Shannon has spent the last 29 years at St. Augustine, where she started out as a teacher and later transitioned to pastoral ministry. She has served as pastoral associate for the last 17 or so years, the last three working with Father Hamilton since he was assigned there.
She believes "God's gift to us is the gift of our life. What we do with our life is our gift back to God. I've felt very blessed to have all these gifts to offer," she said.
Shannon's first love was teaching and she spent 15 years in the classroom at St. Francis of Assisi School in Loretto, Ky., St. Catherine Academy in New Haven, Ky., St. Augustine in Lebanon and several other schools throughout the archdiocese as a substitute teacher.
In 1997 she was asked by Archbishop Charles C. Thompson of Indianapolis, then pastor of St. Augustine, to serve in ministry at the parish. Her new title was coordinator of lifelong formation and education. Shannon said her answer was "immediately yes," though it made her sad to leave the classroom.
"I am an educator at heart but I love God and teaching religion and I love praying for people and praying with people," she said during a recent interview in her Lebanon office. "It was a struggle not being in a classroom with my group of children, but God had given me many people to work with."
In her new role, Shannon, a master catechist, built St. Augustine's religious education program, youth ministry and adult faith formation programs — she prepared families for their children's baptism and prepared hundreds of individuals to enter the church.
St. Augustine hadn't offered vacation Bible school in 20 years and that's a ministry she revived, she said.
Because she serves in the faith community in which she worships, Shannon said she is always "ministering, even in Kroger," where she runs into parishioners who share their needs.
In turn, she has found support in the community.
"This community is such a blessing to work in. The parishioners are so appreciative and everyone prays for everyone," said Shannon. "Their support has been influential in my faith life and growth."
While serving her faith community, Shannon also reached out to lift others up along the way. She became a mentor to 22 directors of religious education.
And Shannon's service to St. Augustine just kept growing.
In 2002 Father Gerald Bell became pastor of St. Augustine Church which, in 2004, was clustered with Holy Name of Mary Church in Calvary, located about four miles south of Lebanon.
In 2004, Shannon became the pastoral associate of St. Augustine and Holy Name of Mary churches. As a lay ecclesial minister, she assists her pastor, helping to guide and lead the parish.
She also took on the role of business manager — helping with finances, working with contractors and roofers and helping to solve problems concerning buildings and facilities — all while remaining faithful to her duties as pastoral associate.
Again, Shannon said she relied on those "gifts from God," such as organization skills, to take on her new responsibilities, she said.
Following the years with Archbishop Thompson and Father Bell, Shannon served alongside two other pastors, Father William Bowling and most recently Father Mark Hamilton.
Shannon said their leadership styles were different, but what they had in common is they're "holy, prayerful men."
"I feel very blessed by all the pastors I've served. They are the best servants of God that I've witnessed," she said.
Art Turner, who serves as director of the archdiocese's Office of Faith Formation, has walked a similar path as Shannon, and the two have been friends for more than two decades.
Turner said Shannon was able to serve with four pastors and make things work because she avoided the idea that her ministry was in competition with or in opposition to their ministry.
He said pastoral ministry is a "calling, a way of living and looking at the world and interacting with people."
It's a calling Shannon has paid attention to over the years, he noted.
"She functions out of a genuine sense of call," he said. "She had a sense pretty early in life that God was calling her to do things and she embraced it and ran with it."
Turner said over the years, she has "modeled well what lay ecclesial ministry is supposed to be. She always approached her work with a sense of professionalism and humility," he said.
Reflecting on their years of service with Shannon by their side, the pastors said they found a partner in her.
Father Hamilton, pastor of St. Augustine and Holy Name of Mary churches, said Shannon has helped him to "navigate not only Lebanon, but priesthood and being a pastor."
"She brings things to this parish, as a mother and wife, that I can't. There's wisdom, there's compassion and learnedness she has that she brings in a very respectful way," he said.
Father Hamilton said this is not a job that Shannon is walking away from. It's her faith community and she "wants people to continue to grow in their relationship with God." Because of this, she's been forming other individuals to fill her many roles upon her departure, he said.
Father William Bowling was pastor of St. Augustine and Holy Name of Mary parishes for seven years. Together they worked on projects and solved problems, including how to best utilize the parishes' resources and how to bring St. Augustine School back into financial prosperity, he said.
Shannon was a "source of strength and stability" for the two parishes and the region, he noted.
"I'd like to say how talented she's been in all aspects of parish ministry. … Her expertise was a great help. I found a real partner in her with the pastoral team," said Father Bowling.
"I felt encouraged and consoled by the fact that Kathy was there and had been in ministry for so long. I felt very supported by her in my own ministry from start to finish."
Father Gerald Bell — with whom Shannon served for 10 years and under whose leadership she became pastoral associate — called her a gift to her local faith community and to the archdiocese.
"She's a very dedicated and faith-filled pastoral administrator and it was a wonderful experience serving with her," said Father Bell. He said Shannon was an excellent teacher and was very "astute with contracting and administrative things."
He noted that she was also "very present. You could find her around the parish on the weekends." Father Bell said Shannon was "exactly what the church needed at the time and what I needed as a pastor. … She was such a help to me."
"She could fill in all the blanks I had no clue about," he said. "We were very blessed with all of her tireless gifts she shared with the parish."
Shannon and her husband, Mike Shannon, have been married for 43 years. They have three children and 13 grandchildren.