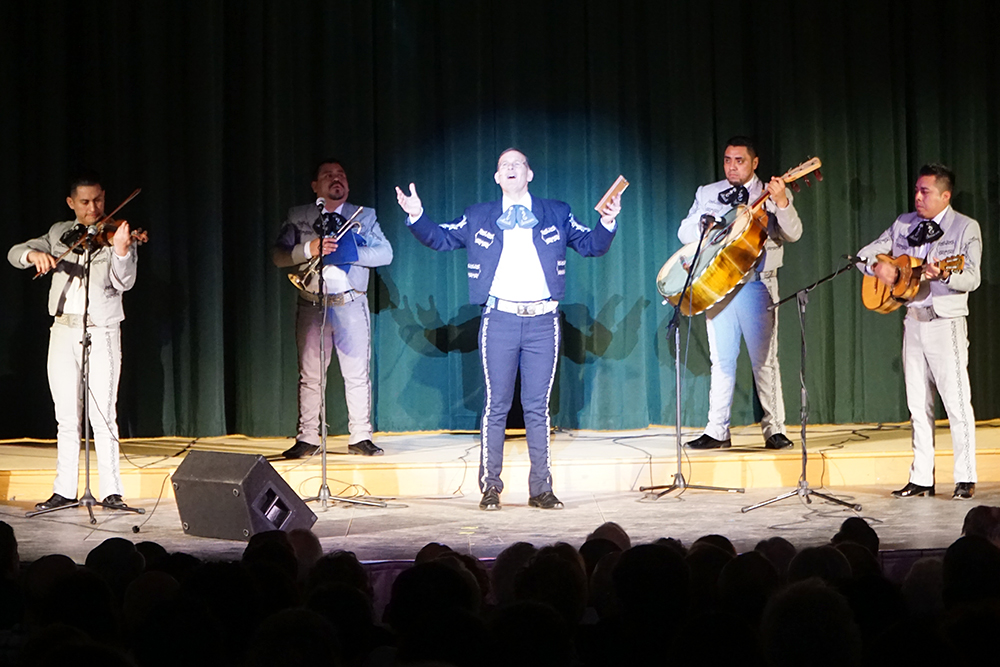 Father Michael Tobin sings mariachi-style Spanish love songs. Father William Hammer went to clown school. Father Troy Overton dons a kilt while singing Scottish ballads. Father John Burke moonlights as a Colonel Sanders impersonator.
And on Feb. 3, they took the stage — alongside five others — to perform in the Archdiocese of Louisville's Priest Variety Show. Other priests shared their gifts — such as painting and writing — in an exhibit set up in the gym.
Held in St. Xavier High School's Brown Forman Cultural Arts Center, the variety show benefitted the Catholic Services Appeal.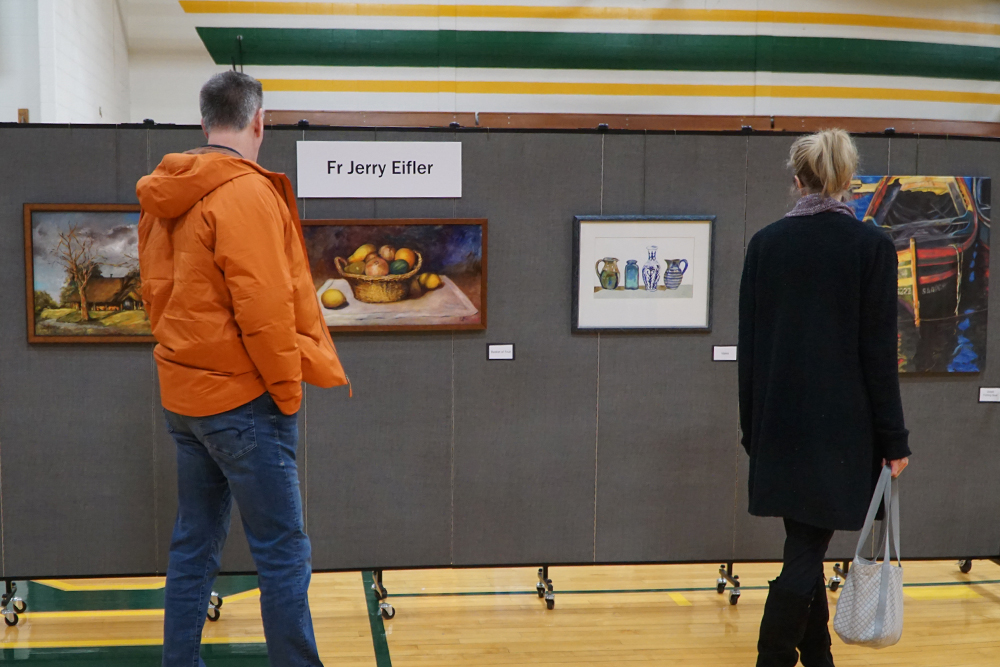 The show "had so many great acts," said Melissa Herberger, coordinator of the Catholic Services Appeal. "I think it was great for people to see our priests in a different light. They have to wear so many different hats and have so many different talents. I've been to St. Rita (Church) several times, and I didn't know Father Tobin could sing like that!"
Herberger said the show sold out more than 500 tickets and those watching online via Facebook Live hovered around 350.
As of Feb. 6, including the funds provided by the Priest Variety Show ticket sales, the Catholic Services Appeal hit 95 percent of its goal — both for monetary donations and donor participation.
The twin goals aim to raise $4.1 million from at least 11,235 donors. Throughout this year's campaign, they've been neck and neck, Herberger said.
"We're trending a little bit ahead of where we were this time last year and we're so excited about the donor participation," she noted.
So far, the CSA has raised $3,900,098 with 10,670 households participating.
And the variety show contributed to that success, Herberger said. "The proceeds benefitted the CSA, but the main focus of the show was our priests."
Father Peter Bucalo, pastor of St. Stephen Martyr Church and a former radio D.J., served as the night's emcee.
"Priest 'Variety' Show? I thought this was the priest auction!" Father Bucalo joked. "Good thing it's not. Father Shayne Duvall is here and he has a checkbook. By the end of it, the whole presbyterate would be at Holy Trinity!"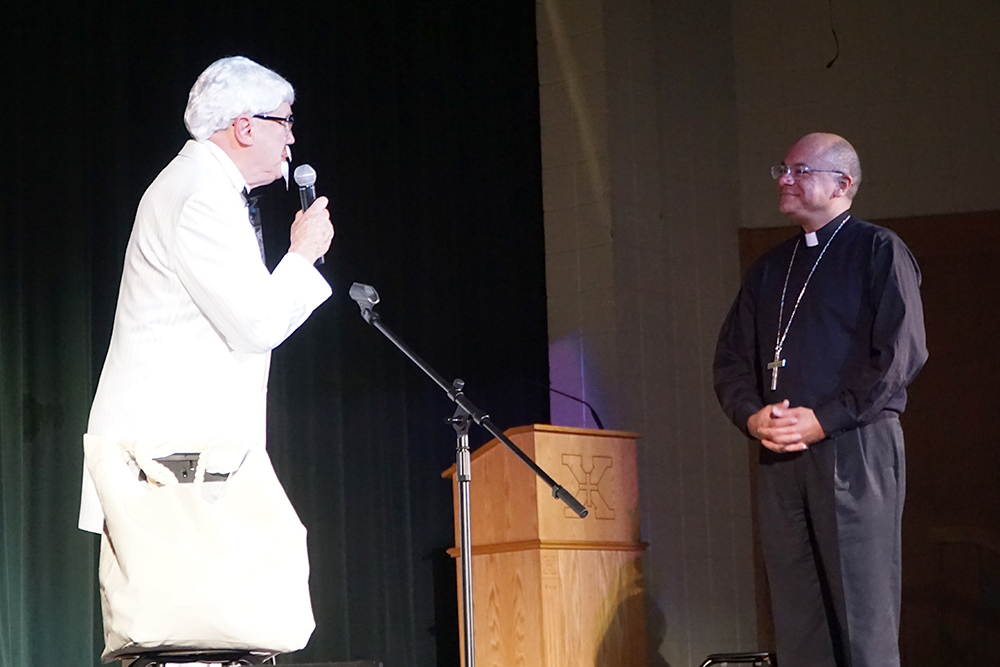 Father Gary Padgett, pastor of St. James and St. Brigid churches, sang "My Man" and "My Heaven." Father Jerry Eifler, a retired pastor, spoke about how he became an artist. Father Bill Burks, pastor of St. Lawrence Church, sang "No One is Alone" and "Errol Flynn." Father Terry Bradshaw, pastor of St. Joseph Proto-cathedral in Bardstown, Ky., performed a home-spun rendition of "How Great Thou Art." And Father Chuck Walker performed with his band, known as the Waste Band.
To end the evening, Father John Burke, dressed as Colonel Sanders, invited Archbishop Shelton J. Fabre on stage.
"Bishop," Father Burke said. "You need a conversion of taste. Crawfish?" he asked, before presenting the archbishop with a bucket of Kentucky Fried Chicken. He also suggested the archbishop ditch scotch as his preferred spirit in favor of Kentucky bourbon.
"I'm willing to be your spiritual advisor," Father Burke offered.
"You can be my food and liquor GPS," Archbishop Fabre told him.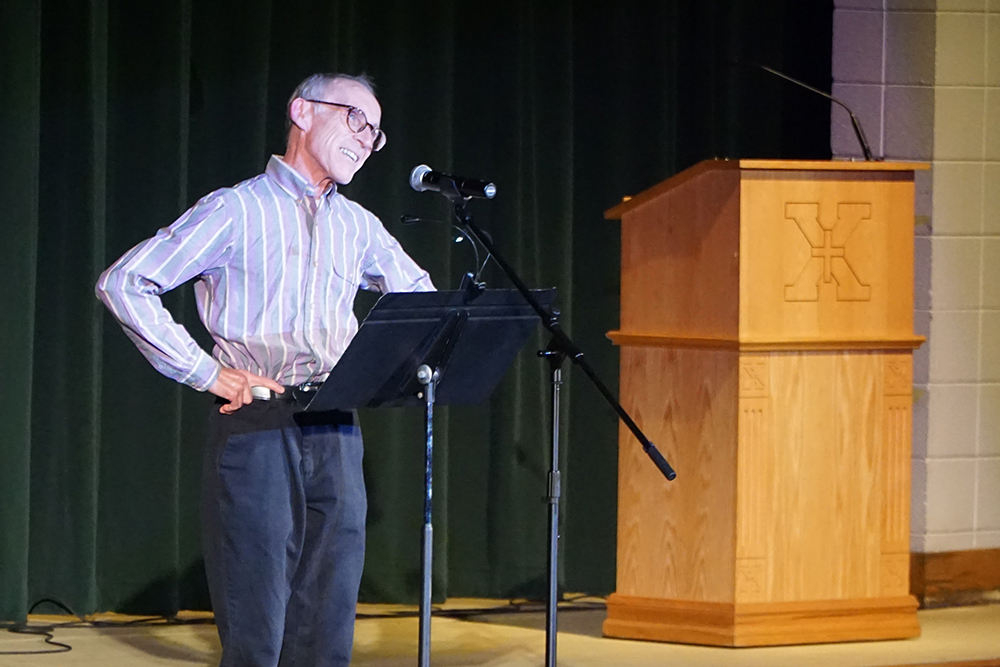 While the archbishop was on stage, State Rep. Josie Raymond presented Archbishop Fabre with a Kentucky Colonel Certificate. The certificate is the "highest honor that a governor can bestow on a Kentuckian," Raymond said.
With that, Father Burke considered a new title for Archbishop Fabre.
"What should we call you now? Most Reverend Colonel? Archbishop Colonel? Do we need to call Rome?" he quipped to the audience's laughter.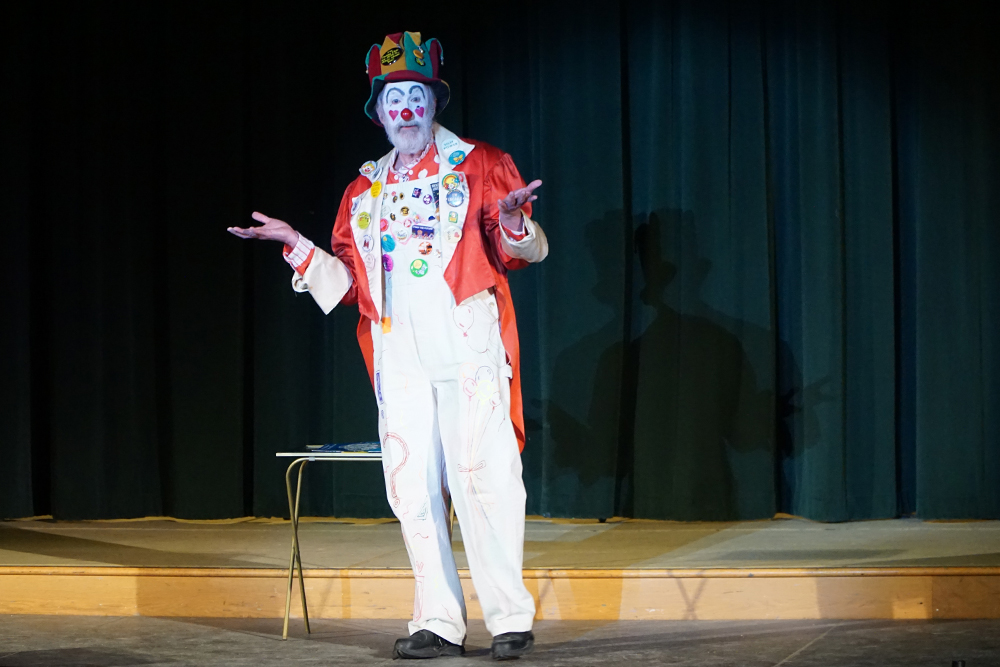 The evening raised the audience's spirits and more than $10,000 for the CSA.
Herberger said the Office of Mission Advancement is grateful to everyone who has made a gift so far.
"We say thank you from the bottom of our hearts, so much. Every gift matters and makes a difference," she said.
"I think it was great for people to see our priests in a different light. They have to wear so many different hats and have so many different talents."
Melissa Herberger, Catholic Services Appeal coordinator
For those who would like to make a gift, there's still time. Visit www.archlou.org/csa/ to give online or mail a check to Catholic Services Appeal, P.O. Box 32279, Louisville, Ky., 40232.
"We want people to know how much we appreciate their support and their prayers for a good and successful Catholic Services Appeal," Herberger said.
The show can be viewed on the archdiocese's Facebook page, CatholicArchLou.