By Glenn Rutherford and Marnie McAllister, Record Staff

The Kentucky General Assembly overrode Gov. Steve Beshear's veto of House Bill 279 late March 26, approving the measure that seeks to strengthen religious freedom in Kentucky.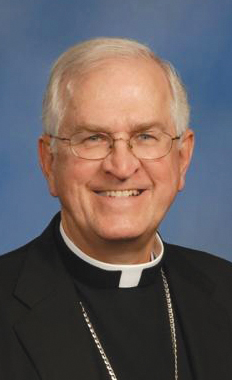 Archbishop Joseph E. Kurtz welcomed the news during an interview early March 27, saying "Of course I'm very, very pleased." The archbishop noted that he was especially gratified "that we here in Kentucky are speaking out for religious freedom," in light of the "erosion of religious liberty that's occuring.
The new law says that the government may not "substantially burden" someone's freedom of religion unless the government proves a compelling interest by "clear and convincing evidence."
The Catholic Conference of Kentucky advocated for House Bill 279 on behalf of the state's four bishops and delivered a letter to Gov. Beshear March 12, urging him to sign the bill into law.
He vetoed the bill March 22, saying in a statement that the legislation is well-intentioned, but that he has "significant concerns that this bill will cause serious unintentional consequences that could threaten public safety, health care, and individuals' civil rights."
He and other opponents of the law expressed concerns that it could be used to weaken other civil rights protections and have an adverse effect on enforcement of drug laws, among other things. Gov. Beshear also warned it may lead to costly litigation.
Father Patrick Delahanty, executive director of the Catholic Conference, dismissed those concerns, noting that similar laws in other states have not led to legal challenges and that a federal law, known as the Religious Freedom Restoration Act of 1993, had bipartisan support.
Archbishop Kurtz said in an interview that protections for religious liberty have been eroded in the last two decades. The most recent challenge, he noted, came in the form of a health care mandate by the Obama administration that required some religious organizations to provide contraceptive coverage for employees.
"If I were to parallel our right to religious liberty to the right we hold sacred of free speech, I believe there has been a slow erosion of the way we look at the right of religious freedom," he said during the interview. "The tempation has been to make it vary narrowly conceived as simply the freedom to worship one hour on a Sunday or Saturday or Friday depending upon your religion. But, as you know, we live our religion daily, not just one hour a week. Religion is a part of living our lives."
There are, the archbishop said, two major aspects of religious freedom.
"On the one hand, it represents the ability for you and me and the nation to actually live the convictions of our faith without imposing those convictions on others," he said. "Second, people have from the beginning participated as valued participants in crafting and preserving the common good. We don't impose our values on others but we participate."
The Catholic Conference of Kentucky posted a statement from Archbishop Kurtz on it's website and thanked those who urged their legislators to pass the law.
"Faithful Citizens on the Conference alert list and others they informed flooded the capitol with phone calls and emails," a post on the conference's website said. "Other allies in the struggle to pass this bill kept their constituents informed so they, too, acted. Thousands of constituents urged support for overriding the veto, the first veto overridden in 10 years."