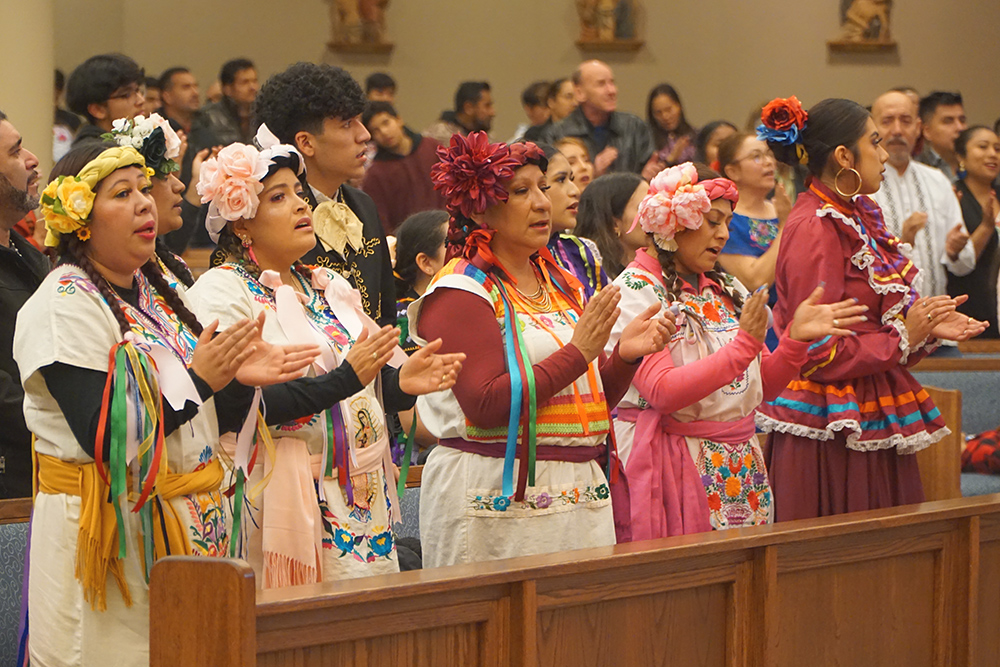 Por RUBY THOMAS
Escritora del personal del periódico the Record
Cientos de hispanos y latinos católicos, muchos de ellos vestidos con coloridos trajes tradicionales, se reunieron en la Iglesia St. Peter the Apostle en Johnsontown Road el 12 de diciembre para celebrar la fiesta de Nuestra Señora de Guadalupe, patrona de México y de las Américas. Esta celebración fue una entre aproximadamente una docena de celebraciones del día festivo en la Arquidiócesis de Louisville.
El padre Jean González, párroco asociado de St. Peter the Apostle, celebró una Misa en español. El padre Christopher Lubecke, párroco, concelebró.
Durante la liturgia, el padre Jean recordó la historia de la aparición de Nuestra Señora de Guadalupe a San Juan Diego Cuauhtlatoatzin en 1531.
Les dijo a los reunidos que la Santísima Madre se reveló a San Juan Diego "de una manera especial" porque tenía algo que dar: su amor y su consuelo.
De manera similar, ella permanece entre los fieles "para que ninguno de sus hijos esté solo. Bajo su protección, no hay nada que temer", dijo el padre Jean.
El padre Jean llamó la atención de la congregación sobre la lectura del libro del Evangelio de San Lucas, donde María parte "a toda prisa" para visitar a su prima Isabel, que estaba embarazada de Juan el Bautista. De la misma manera, la Santísima Virgen María va a toda prisa buscando ayudar a cada uno de sus hijos, dijo el padre Jean.