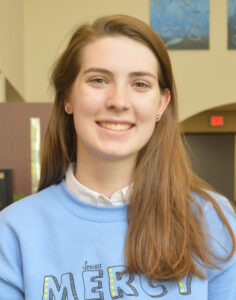 Four short years ago, we entered Mercy's door as students. We were scared, excited, or maybe somewhat indifferent, but we all had one thing in common: We were starting over. We didn't know what to expect, what we would experience at our time at Mercy, but Mercy has taught us how to succeed in life.
Mercy Academy has allowed me to grow in ways I never imagined. This school has taught me lessons that I will carry with me for the rest of my life. I have been taught that I am the future. I can go out and be an engineer, doctor, actor, teacher, policymaker or anything in between. We have been given the skills to do what we want to do.
Our STEM-based curriculum incorporates real world applications. Those math equations and people in history shape our daily lives whether we realize it or not.
Mercy has given us information that we will use throughout our lives. We have been shown that we can change the world. Mercy has taught us to be empowered women, to act against the status quo, and to be disruptive.
We have been taught how to succeed in life. "Nevertheless she persisted, like a Mercy girl," has been our theme for the year. We have added "like a Mercy girl" as a statement to who we are as a school.
At Mercy Academy, we are taught to be this disturbance, to not lie down and accept the ideals of others.
A young woman of Mercy fights for her right to speak and makes her opinion known. A teacher once told my friend, "Cause the problems; be the issue."
This encourages us to take a stand.
If we see something that is wrong, we should stand up and say something. We are not powerless young women; we are strong. Most importantly, we are supported by our peers in these endeavors.
Mercy Academy has given me something special, something which I will always cherish. This school has given me 550 sisters.
Walking into the doors freshman year, I did not know anyone. It was stressful being young and having to start all over. I spent numerous sleepless nights worrying about what my high school experience would be like. I tried to think of what I wanted out of high school. I was coming in alone; all I wanted was to have some security.
These young women have become my security. They are my sisters, my friends, my peers. We have cried together on retreats, laughed at our walks, struggled through classes and loved each other through it all.
I wanted to be part of something bigger than me. Mercy gave me this opportunity. I have grown in my faith beside my best friends, learning that through God all things really are possible. I am never alone because my friends are always right behind me cheering me on.
As a school, we have been taught what it means to be a woman of Mercy. We are strong, compassionate, powerful women. We have the tools to succeed. The teachers have taught us to persist through our challenges and believe in ourselves.
To our parents, I cannot thank you enough for sending your daughters here. These past four years I have watched people come and go. I have watched my friends grow up and become women of Mercy, and I could not be more proud to be a woman of Mercy.
I have loved experiencing major life events with each and every one of these women that have become my friends, my family. I cannot wait to see what we accomplish in the future; I'm sure it will be amazing. Once a Jaguar, always a Jaguar.
©2019 The Record | Archdiocese of Louisville
Back to top