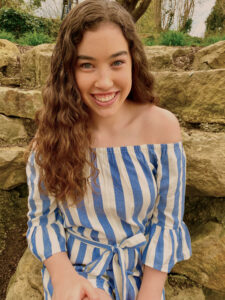 Each year I am reminded of our first day of high school during the freshman tunnel. I was reassured after we ran through the hallways on that very first day, that we all shared the same feelings of awkwardness and uncertainty of what was to come.
We may have been a little confused during some of the cheers at one of our very first pep rallies, but that never stopped our class from showing immense school spirit and support for each other, like when we dominated the hall decorating contest and traveled to cheer each other on at big games.
Another quality seen in our class is that we never take the easy way out of a situation. Like Junior Prom set up, for example, when we decided on an enchanted forest theme and ordered full-size cardboard trees as decorations — six hours of putting those together proved to be yet another true bonding experience. We all have our own special memories too, like a particular retreat, special bond with a teacher, or funny inside jokes with each of our classes. During times like these, we gave everything our all and we did everything together, and that is one of the things I will miss most.
They say that the days go slow, but the years go fast. Well, they seem to go even faster when you get to spend each day at a place like Mercy, with teachers who empower us to become the most well-rounded individuals we can be, administrators that truly care about us and do everything they can to meet our needs, and classmates that simply become family. I know that this year did not go as planned. The worst part of all was missing such valuable time together. Mercy has given us all a sense of comfort during the most unbearable times, one that extends beyond sitting on our beloved carpet and spirit wear Mondays, but rather encompasses all of the people who care the most about us and our future success, and that will never change.
Each day at Mercy presents new challenges, but also provides us with a lifetime of memories and excitement; unfortunately we missed out on some of those things this year.
While we will never get that time back, the abundance of laughs, cries, challenges, and celebratory moments that we have shared together will forever outnumber the hardships that were a product of unusual circumstances this year. I believe that our class has been a perfect example that you should not take any moment for granted, and I think we can all say that we really made our time together count. Looking back, I have never been surer of my choice to come to Mercy. Mercy has provided me with unique opportunities and experiences that will ensure that I am confident, empowered, and truly prepared for real life. I know my classmates can say the same.
I would encourage you to always remember the people you encountered and the memories you made here. This year, in particular, will likely be difficult for any of us to forget. I would also say that better times are ahead, but it is impossible to beat the feeling of wearing that Mercy uniform and knowing that you have a support system behind you like the one we have here. Despite all of the uncertainty to come as we go our separate ways, there is one thing we can be sure of, we will always have a home and a family on Fegenbush Lane.