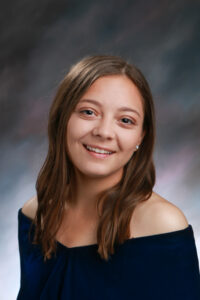 Eighth grade put the responsibility of choosing a future into the hands of a 14-year-old girl. In downtown Louisville stood an old three-story building where she wanted to spend the next four years of her life.
This wasn't the choice of any of her friends so she almost didn't make it. However, this leap of faith felt right. Shy and scared described this freshman walking in the front steps of the path she had chosen. She didn't know anyone, and yet, never had a place given such a feeling of home and belonging.
Little did she know, this school would change her life.
Four years later, she learned that there was more possibility in her than she had ever imagined. She blossomed into a powerful leader, better friend, and stronger person. It wasn't just the city lights and classrooms that shaped her; it was the friends she met that challenged her to grow and the teachers that took her in and molded her to meet her potential.
She wasn't afraid to be herself there and had the opportunity to speak her mind. She knew she had a community supporting every decision she made and she realized that no matter where she went in the future, they would remain there for her.
At Pres she found love for a sport that is going with her for the next four years. She grew her passion for communication and media that sparked her intended future in sports broadcasting, and she found in herself a leader that was waiting for a chance.
Nowhere else could she have built the foundation of knowledge and talents that Presentation had given her. Her leap of faith was the decision that allowed her to be her true self and grow her talents. She no longer has to be shy or scared to share her voice because she now knows that being a Pres Girl doesn't mean being quiet or dismissive.
Walking on the dented steps, she felt the weight of the legacies of Pres Girls before her and saw her opportunity to make them proud. Through her failures, she found the strength to continue in the community around her and through her successes, she was surrounded by support and love that was irreplaceable.
Soon, she will leave her home, taking with her the new confident young woman Pres has made her to be. Her journey will be tough, but through the lessons and knowledge she gained, she knows she has no reason to be afraid because a little piece of her home at Pres will always be with her.
She sees the possibilities ahead of her thanks to the people who pushed her to reach her potential. She now leaves future Pres Girls with one wish — that they will appreciate every second they spend and never forget the true meaning of being a Pres Girl.