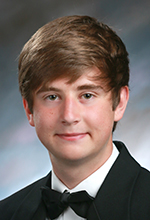 One definition of the word family is a group of things related by common characteristics. Sometimes places throw the word family around and it loses meaning.
At DeSales High School, this is not the case. When you go to DeSales you are truly part of a tight-knit family and a strong brotherhood.
I didn't begin my high school journey at DeSales, but I just didn't feel at home at my previous school. I had some friends attending DeSales, and I eventually decided to transfer here my sophomore year. I was nervous as anyone would be going to a new school. I had heard all the talk about the strong brotherhood and how closely knit the DeSales community was, but when I came they took me in as their own. In just a few weeks it already felt like home.
There is a bond at DeSales that I have yet to see displayed elsewhere in my life. The administration and teachers do a great job of ensuring the betterment of each student. At no point in my time at DeSales did I feel like there wasn't someone there to help me. Everyone looks out for each other, just as you would your own family.
DeSales hasn't been easy; it is extremely challenging at times. They are going to challenge you, but they are also fair and are going to give you every resource you need to succeed.
When you become an upperclassman, Mrs. Bowman's office is always open to talk about college or any other concerns. Mrs. Mo's office is always available to discuss service, and Mr. Gottbrath is the link between you and the teachers that can help you through anything.
I am very appreciative of everyone that helps make DeSales such a special place. I feel that it has shaped me greatly and helped put me on the right path for the rest of my life. I am extremely grateful that I was welcomed into the Colt family with open arms and will live my life trying to exemplify what it means to be a DeSales man.