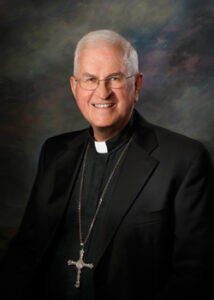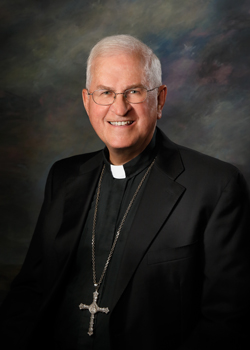 Rejoice! Based upon sound advice from public health authorities, the governor has announced May 20 as the date on which we can begin to slowly but safely open our parishes for public celebrations of liturgies, including Mass. We will need to develop a careful plan that keeps people out of harm's way. We also will need a full dose of patience as we mitigate danger for all who participate.
Our Catholic social teaching is based upon a foundational principle of concern and care for the common good, and this motivates us, as the people of God, to take steps to protect not only our families and ourselves but also everyone in the community.
This process has not been without sacrifice, and our efforts to restore access to the sacraments must proceed very carefully. I have been in communication with the governor's office and public health authorities to ensure a solid plan and have consulted widely with the bishops of the Province of Louisville as well as our own Priests' Council in order to develop wise guidelines and directives to govern this return.
I plan to issue directives and guidelines this week. Thank you for reading them carefully and for embracing them.
I commend all priests, deacons and lay leaders for their leadership in these difficult times as well as all of the faithful for your cooperation.
I extend special prayers and thanks to those in the healthcare community who have often placed themselves in harm's way in order to ensure a healthy society and to serve those with symptoms of COVID-19. They have been heroes, and we are grateful.
As we slowly but surely return to full and active participation in the sacraments of the church and most especially the sacrament of the holy Eucharist, I would be remiss if I did not also express gratitude to those who allowed us to make the sacraments as accessible as possible, within the limits of the restrictions required.
I need to commend both parishes and broadcasters for making possible live-streaming and a high level of virtual participation. These platforms provided access to liturgies during the height of the pandemic. Since future directives will surely urge those over 65 and otherwise vulnerable to remain at home, we will still need to continue this option of virtual participation into the near future.
Recently, I learned from WAVE 3 that household participation for Holy Thursday and Good Friday came very close to reaching 100,000 each evening. This is an extremely favorable reach, and it meant that many families had access to the Holy Thursday Mass and Good Friday liturgy at the Cathedral. I appreciated all of the other Holy Week services that WAVE 3 aired, which also received good viewership.
Likewise, the Mass of the Air broadcast on Easter Sunday by WHAS TV and the Faith Channel had many viewers. While Mass of Air has been a virtual reality with us for decades, most parishes have not ventured into live streaming, and so we are learning rapidly about the potential of modern communication. Of course, there is no substitute for coming together as the Body of Christ.
Some time ago, I wrote about the importance of touch and closeness as a part of healthy and good human functioning. While social distancing has been required of us, and good hygiene hopefully will continue well into the future, we understand the importance of being close to one another as a human community.
I recall someone saying to me: "I want to go to heaven but not alone. I want you to come with me!" Our salvation in Christ occurs not one person at a time but together. The Holy Eucharist is that time when, together, we draw close to Jesus, our Salvation and Power, who strengthens us on our pilgrim way to heaven. Let's pray for ways to return together!