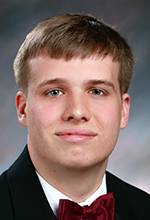 The transition from middle school to high school is never an easy one, especially considering how big and populous high schools usually are. However, smaller schools come with their own challenges and opportunities as well. The challenges themselves make for better students and build beneficial characteristics for student futures.
Holy Cross is exemplary in pushing its students to excellence and leaving no stone unturned in doing so.
As a student, there is no blending in or hiding amongst the crowd throughout your four years. Holy Cross and its staff members push students to reach their potentials, be involved, and be active in both its academic and extracurricular subsets.
This is evident in our statistics as every year the student involvement, sports/extracurricular participants, and club members make up 90-95% of our population. Holy Cross directs its students into opportunities that not only consist of and build upon their passions and strengths, but also directs them into the experiences that are out of their comfort zones and areas that they can improve upon.
Our Corporate Internship Program puts students in real-life job settings with adults, which in turn, gets students accustomed to the occupations of life and what comes with them, as well as helping us find our passions, interests, and career paths throughout the experience.
Groups such as our student council, ambassadors' program, and many more, build leadership qualities, strengthen public speaking, and propel student confidence.
Another advantage Holy Cross has is that it is built to maintain and create strong student-teacher relationships. Within these small classes is the potentiality of great student-teacher interaction and allows for learning to become more personal, interactive, and laid back. The teachers are able to show that they truly care for the students and they are able to take on mentorship roles and to know each student not only by name, but by value and character as well.
In addition to creating a better future for each student, Holy Cross is bettering its own future as well. With many new renovations, technological advancements, and strategic implementations of new changes and branding, Holy Cross has set itself up for an even better and lasting future. This paired with an already great foundation, Holy Cross will only continue to be great and grow even more as the years progress.
The community of Holy Cross is as tight as you could ever imagine one could be. It truly creates a family-like atmosphere, one in which students, staff, and alumni all contribute to.
The value of knowing and being known by everyone in the school cannot be overstated. The school pride that exudes from each member of the community and the affection they show one another, really makes Holy Cross a place that is special like no other. Holy Cross is the perfect example of getting the most out of everyone. It's a community motivated on building student futures and contributing to their success — a brand that truly embodies strength in small numbers.