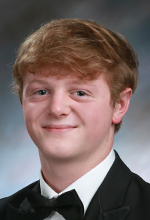 The "real world" is scary to think about for a soon-to-be graduate. Colleges to choose, bills to pay, jobs to do, family to take care of — "the real world" can be a lot. In my mind, it's like stepping into the batter's box with two outs in the bottom of the ninth. But I don't worry, because DeSales High School has taught me well.
The pressure is on and you need a hit to keep the game alive. Luckily, leading up to this at-bat, the dedication of the coaches (the DeSales faculty) and your hard work have put you in the perfect place to succeed. Although the pitcher plans to strike you out, you can be certain that DeSales has coached you well. You know what to do.
As you exit the dugout, your walk-up song plays in the background and you step inside the batter's box. Your eyes are glued to the pitcher and it is just you versus him. The first pitch is thrown. While it is in the air you decipher what pitch it may be. In your head you think, "Fastball? Curveball? Slider? Changeup?" but you don't know. You can never really know in the split second it takes for the ball to reach the catcher's mitt.
However, you do your best to guess and make the decision to swing or not. You made your decision. Ball one. You did not swing. You stood your ground. Now onto pitch two. Swing and a miss, "Strike one!" yells the umpire. The count is now even at 1-1. Will they throw a changeup this time or will they repeat with a fastball? One may only guess. The third pitch is thrown … ball two. Now the count is in your favor ever so slightly. So you wait. Wait for the fourth pitch. It is thrown and it zooms at you. You let it pass. Strike two.
Even when things aren't going exactly your way, you keep coming back to what you know: "DeSales has prepared me for this."
You are down to your last strike. The one thing keeping you alive. You have prepared for this moment. As you stand in the batter's box ready, you wait. The pitcher winds up and throws the ball. It comes to the plate … and called. Ball 3. Just down and left. In this moment, you think to yourself, "You made it. It's 3-2. This is my time to shine."
As you gather yourself and step back into the batter's box for possibly the last time, a rush of all that you have learned begins to flow throughout your blood. Repeat what you've learned over the past four years. It's time for the pitch. Stand up.
The pitcher cocks his arm back and hurls the ball forward. Stand out. You notice it's a fastball straight down the middle and you swing with all your might. Stand proud.
Home run!
And just like that, you've won the game.
Now, after hitting the game-winning home run, the correlation is clear. Life, like a terrifying pitcher, can throw anything at you. To make it, you must stand your ground and trust in what you have been prepared with. Stand Up. Stand Out. Stand Proud.
For me, that preparation has come from DeSales High School. My teachers, the Christian values instilled in me, and the trust I have in my brothers at DeSales have steered me right.
I'm prepared to stand my ground, take the real world head-on, and hit it out of the park — all because of my time as a DeSales Colt.