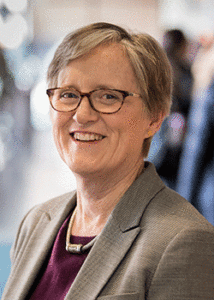 As the president of Bellarmine University, an inclusive independent Catholic university, I am proud to carry on the Catholic intellectual tradition — a centuries-old search for the truth, value and meaning that make us fully human. Indeed, the founding motto of Bellarmine is In veritatis amore: In the love of truth.
The Catholic intellectual tradition is rooted in the belief that faith seeks understanding. In other words, asking questions is a necessary part of faith, and employing both is required to illuminate truth. Bellarmine students, guided by a challenging curriculum infused by the liberal arts, are encouraged to engage in deep conversation with their professors and to employ both faith and reason in finding the answers to their questions — including ultimate questions, for which faith may prove to be the greater resource.
At Bellarmine, we embrace inclusion. We educate our students in the tradition of Thomas Merton, the Trappist monk whose papers are housed here, to find the interconnectedness of all life and "the solidarity of the human spirit, which transcends ethnic, religious and social divisions."
The Catholic tradition also embraces the concept of cura personalis: care of the whole person — mind, body and spirit. In caring for our students, we seek to nourish their bodies and spirits as well as their minds by providing opportunities and resources outside the classroom, including study abroad, varsity and intramural sports, and many faith-based organizations. Students also thrive through the personal and supportive relationships they build with our faculty and staff.
Our mission calls upon all of us to use our talents in the service of others. This begins at Bellarmine during orientation week — when all incoming first-year students participate in a day of community service projects throughout the Louisville area — and continues well beyond graduation, as our alumni use their knowledge and faith to make the world a better place.
Here at Bellarmine, we value the intrinsic dignity of each person as an individual. We recognize the interconnectedness of all life, and the solidarity of the human spirit. These are the foundations upon which Bellarmine was built and the mission that continues to inspire us every day.
Susan M. Donovan, Ph.D.
President, Bellarmine University