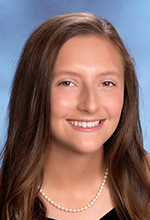 Throughout the past four years, the class of 2021 has faced a multitude of challenges; nevertheless, we have persisted and, in doing so, have grown closer to one another.
The opportunities, experiences, and relationships that Bethlehem High School has provided to me and to so many other students truly represents the caring culture that has been formed throughout the over two-hundred years of the school's existence, a culture which has been joyfully coined as "the Bethlehem family."
Although it may sound cliché, we are a family; Bethlehem students are called to be united in academics, extracurriculars, service, and faith.
Always emphasizing these core values, we challenge each other to become not only better students but also better people. In an environment of true passion for knowledge, dedication to growth, and persistent support, Bethlehem has helped pave the way toward my future in a truly remarkable way.
There are not enough words to describe the gratitude that I feel as I reflect upon my high school experience. The opportunities I have pursued, lessons I have learned, relationships I have formed, and growth I have experienced will undoubtedly continue to positively impact the rest of life.
At the entrance of each classroom, a small piece of paper is framed next to the door. On this paper is a mission statement, which labels Bethlehem as a "Christ-centered, college preparatory school." As for the college preparatory aspect, Bethlehem is an intellectually stimulating environment with teachers who express both creativity and passion in every lesson they teach.
With such dedication, it is evident that the teachers care about the students and people and wish to inspire us with a love of learning.
Furthermore, with rigorous course options, numerous clubs, and competitive athletics, students throughout the school are united in similar interests and the learning they have received.
As for faith, at Senior Retreat, one of our religion teachers reminded seniors that "without Christ in the middle, the center will never hold."
The integration of both faith and reason into our coursework is a constant reminder of what truly binds us all together, what actually makes us "the Bethlehem family:" Christ.
After switching to online school last spring due to COVID-19, the past year has certainly been anything but ordinary. However, in true Bethlehem fashion, passion, perseverance, and teamwork have allowed for the preservation of multiple time-honored traditions (such as the Welcome Supper, Battle of the Classes, and senior retreat).
In facing the obstacles together, we have grown stronger; with Christ in the center, we continue to not only stand but also grow.
Even in such troubling times, my classmates and I have been able to make the most of every opportunity offered because, as Albert Einstein once said, "In the middle of difficulty lies opportunity."
Even though the seniors have had an atypical high school experience, we have been united through the highs and lows of the shared experiences of academic rigor, faith exploration, and personal growth.
Because of this, there are, again, not enough words to describe my gratitude, but I would like to use these final few words to thank the teachers, staff, and students that have greatly impacted the person I am today. Even as the class of 2021 walks through the doors as seniors one last time, we will remain members of "the Bethlehem family," forever united with Christ in the center.