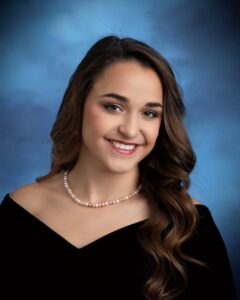 My four years at Bethlehem have flown by so fast, but I can remember my first day at Bethlehem High School like it was yesterday. I was a baby freshman scared half to death to get to school too early because I had no idea where to sit in the cafeteria. I was scared, excited and anxious. Adrenaline was racing through my body. Little did I know that first day would be one of the best days of my life and that I found an amazing home for the next four years.
I had always been told by representatives of Bethlehem that they were a "family," but I never really understood what that meant. My vision of high school since I was a little girl was that I was going to step into a big new school, full of people who did not know me and would not care to know me. I certainly did not think of it as a family. Some of my friends from other high schools say their high school experience is exactly like my original vision. At Bethlehem, this is not true.
I started my journey to the Bethlehem family the summer before my freshman year. Girls' soccer practiced and conditioned me throughout the summer. We ran. We sweat. We complained. We fell down. We got back up. We tripped over our own ankles on the poorly groomed field.
Most importantly, we bonded. We prepared together for the season ahead, and no doubt, we were excited. That season, my freshman year, was the best soccer season I have ever had. We were a team. We were a family. We were the underdogs who won districts, regions and made it to the state final four. Never in school history had that ever happened.
The best part about each of those championships was that our Bethlehem family was supporting us at each and every game. The stands were filled every night. The stands were filled in 30 degree weather with pouring down rain on Mercy Academy's field.
At school, we held a school-wide tunnel throughout the whole building that our team ran through. The student section rushed the field every chance they could get, not caring even if we would get fined. I quite literally felt like a celebrity at school. The whole team did.
I realize now that I was not being treated like a celebrity. I was being treated like family. The support system, love and encouragement the team and I got from the school was overflowing, and I will never forget the feelings and memories they gave me that year.
This year, I have grown so much as a student and as a person at Bethlehem. We started the year off with our senior retreat which not only brought me closer to my fellow classmates, but also to my faith.
The senior retreat definitely wraps up everything Bethlehem is. The student body is definitely strong in our faith. We are all interconnected. We are all family. We all have our ups and downs. Most importantly, we all grow together.
This year, we have all grown up so much and are so prepared for our future. Compared to my freshman year, I hardly recognize my class. A family member close to me once told me a quote that defines Bethlehem in my eyes. It reads, "A diamond doesn't start out polished and shining. It once was nothing special, but with enough pressure and time, it becomes spectacular."
Bethlehem has formed us all into diamonds. Now we are ready for the world ahead, but if we ever need to come back, the Bethlehem family will always be there for us with open arms.