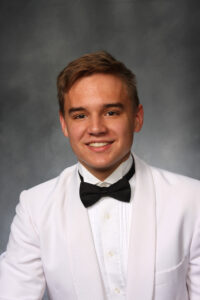 Imagine walking through the halls your first day of high school — just a tiny freshman unsure what you're doing. I finally found my locker, and I know all I have to do is open it, and the rest of the day will run smoothly. But no, it has to be jammed.
I struggled for a couple of minutes as the halls cleared and kids scurried to their classes. Finally, the bell rang, and I was late my first-ever high school class. What a great start to such a huge chapter in my life!
As I got up to head to the office for help, a huge senior rugby player turned the corner; he was also running late but not nearly as worried about it as I was. Before I could say a word, he asked, "Is there anything I can help you with?"
Nervously I responded, "I can't open my locker; I think it's jammed." In a matter of seconds, he pushed the locker a couple of times, and it popped right open. When I told him thanks, he said don't worry about it and to have a good first day.
This may not seem like a huge event to an outsider's perspective. To me, this was the first action that showed me that at Trinity you truly make brothers for life. We were complete strangers, and while that would be our only interaction before he graduated, I never forgot the assistance.
That is what is so special about what Trinity has created. He owed me nothing, but without even thinking about it, he decided to help. Trinity builds a community of people who are willing to help others in need, no matter the circumstances.
Throughout my four years I have noticed countless situations similar to my experience, whether it is one teammate supporting another after a mistake or a student helping another grasp a lesson they don't quite understand. If you spend one hour at Trinity, you will recognize that it is special.
To put it simply, no matter how old, how athletic, how strong, or how smart you are, when you choose to attend Trinity, you are choosing to join a family that you will have the rest of your life.