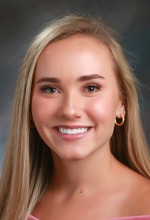 I am a firm believer that no one gets anywhere alone. My personal success is much like a novel. Though I am the author, my novel did not make it to the shelf without passing through the hands of editors, publishers and the inspiration of the people who surround me. It was the community of Assumption that crafted the story of my success, as well as my peers.
The reason Assumption is able to produce outstanding, accomplished young women every year lies no deeper than relationships. I can remember hearing the phrase, "It's not the school, it's the student that determines success" over and over in the midst of my high school decision.
However, as I approach the end of my years at AHS, I have found this phrase to be dead wrong. It implies that every school offers the same experience. I find it hard to imagine I could have been loved and supported so intensely anywhere else.
This feeling is not uncommon among my fellow students. Teachers holding test review sessions at 9 p.m. to accommodate everyone, staff in the stands of sporting events, and classmates freely giving their time to help another student are common to the AHS experience.
It seems as though the community has a sixth sense for seeing potential. I often doubted what my teachers, coaches, and peers said I was capable of until one day I looked back on my accomplishments and realized they were right all along. No matter where one's passions lie — sports, math, theatre, history, art — there is a place for them. In this place, there are individuals who care deeply about helping every student reach their goals and beyond.
As I move towards the next step in life, I have no fear. This was the most crucial lesson I learned at Assumption. When a teacher told me I was taking a class rather than letting me shy away due to anxiety of failure, I always thrived. When my coach told me I could run a time that seemed absurd, I ran it before the season's end. When my friends encouraged me to run for a leadership position I was certain I would never be elected to, I was elected president. These individuals saw more in me than I could and took the time to prove to me I was wrong. I learned that I am fully capable of tackling the challenges life throws my way because the community of Assumption put in the effort to show me.
I wish I could read the stories of all those around me. It would be fascinating to know who filled the main character roles in their high school success story, who chose to believe in them. What I am certain of is that Assumption High School was part of their story, changing the world, one loved student at a time.