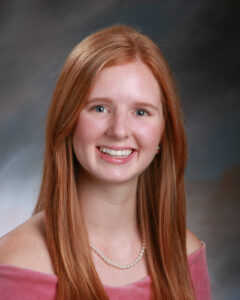 My first day as a Rocket was the beginning of my journey in becoming the empowered and grounded young woman I am today. Assumption intentionally organized meaningful curriculum and programs that helped me grow in and outside of the classroom.
The complex and engaging topics covered in my classes led to my newfound interest in learning. I started to become more invested in my schoolwork because my teachers challenged me to go beyond just learning the information. They urged me to think critically and develop my ideas.
I was encouraged to get involved in clubs and run for leadership positions. The most memorable of all my involvement was my role as president of the Green Dot Club and co-founder of the Mind, Body, and Spirit Club. In these positions, I was able to engage in topics I am passionate about. I learned how to use my voice to empower others, the importance of taking initiative, and how to work well with others.
Assumption gave me these tools to be an exceptional leader and student. They also instilled values within me through experiences like mission week, ACTS, retreat, and more.
One of the lessons that fostered my growth was shared during freshman mission week. The central theme of the week was "I am enough." This simple, yet powerful message of acceptance has stuck with me and inspired me to practice compassion towards myself and others.
I learned the importance of giving to others and discovered my passion for service through the Assumption ACTS program and service-based clubs. My experiences serving in the community taught me more about myself and the world.
Retreat inspired me to live authentically, to be real. I was able to connect with my classmates on a deeper level than I'd ever experienced before. The programs helped me get in touch with my faith and strengthened my beliefs.
Throughout all these experiences, my classmates have been by my side. Senior year has taken an unexpected turn for our class. Despite not being able to spend part of our second semester together, we are still connected.
The community of Assumption has become even closer during this time. The faculty has stepped up to provide for the students in new ways, and I have gained a deeper appreciation for them. My class, the sisters of 2020, has been unbelievably strong.
No matter where the future takes us, I am confident that we are ready to take it on. Assumption equipped us with the knowledge to be leaders of innovation, the foundation to achieve our goals, and most importantly, the values to live a life of compassion. Even after we leave Assumption, we will always live a life aligned with Assumption's core values of faith, compassion, integrity, and excellence.