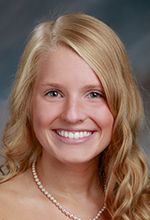 I can still clearly recall arriving for my first shadow visit at Assumption and quickly discovering that I was at the wrong door. Timid and confused, I stepped into the school only to be greeted by warm smiles and welcoming waves. A girl in the hallway sensed my disorientation and led me to where I was supposed to be.
During my first day shadowing Assumption and every day after, I have witnessed the compassion that permeates this community. Students go out of their way to help and support each other on all fronts. Whether reviewing together for a challenging math test or providing support after a tough breakup, I know I can always rely on my AHS sisters to be there for me.
Similarly, the teachers at Assumption are always ready to lend a helping hand. They exemplify what it means to teach the whole person in mind and spirit. From helping me decide which positions to run for in the student government elections, offering guidance for my class schedule, or sending encouraging notes and emails, the kindness and encouragement of the faculty and staff at Assumption are unparalleled.
Through the uplifting community at Assumption, I have been encouraged to excel academically. Every year, my dean and teachers inspire me to challenge myself on the highest levels by simply believing in me. With the support of Assumption at my side, I confidently tackled many different college credit courses during my time here. I am certain that the academic rigor of Assumption has sufficiently prepared me for my college journey.
While I've been held to high academic standards, the lessons of Assumption extend far beyond the classroom. Through the retreat program at AHS, I discovered what it means to not only be my true self but to be confident in who I am. This message opened my eyes to my identity as an authentic woman of God. This lesson inspired me to seek out several different service opportunities, such as teaching literacy skills to children in poverty and to share my calling with others.
Though my senior year has been filled with unexpected changes, it is evident that compassion at Assumption isn't just a single act of kindness. It is something that is continually lived out.
In a year of hybrid schedules and virtual learning, the faculty and staff have worked tirelessly to make sure that every student at Assumption experiences a connected community.
Through yard signs, special class meetings, letters, and so much more, the community of Assumption has continued to ensure that we know we are loved. I believe the true spirit of Assumption lies not in a building or in a name but lives in every student and teacher here.
As I prepare to exit those Tyler Lane doors for the last time as an Assumption student, I will carry that spirit with me and the many lessons that I have learned in this place that I will forever call home.