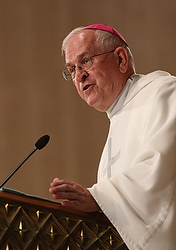 Following is Archbishop Joseph E. Kurtz's schedule for the coming weeks.
June 16 — 9:30 a.m. Ordination of Quan Tran as Transitional Deacon, St. John Vianney Church.
June 17 — 11:30 a.m. Speak to Serra Club about Church's Pastoral Response to Sexual Abuse, St. Margaret Mary Church; 5 p.m. Clergy Day Dinner.
June 19 — 6:30 p.m. Catholic Charities Fundraiser, Cathedral Residence.
June 20 — 11:30 a.m. World Refugee Day, St. Ignatius Martyr Church; 8 p.m. Companion Couples Listening Session, St. Bartholomew Church.
June 21 — 8 a.m. Mass, Holy Family Church.
June 22 — 11:30 a.m. Seminarian Picnic, St. Lawrence Church; 5:30 p.m. Little Sisters of the Poor 150th Anniversary Mass and Reception, Cathedral of the Assumption.
June 23 — Mass, Rite of Acolyte, St. Catherine Church in New Haven, Ky.
June 26 — 5 p.m. Mass for local Opus Dei Group, St. Martin of Tours Church.
June 28 — 8 a.m. Mass, Holy Family Church.