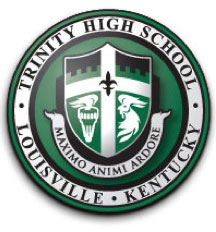 Trinity High School took up a collection at its football game against Champagnat High School last month raising $12,000 for survivors of Hurricane Irma.
Trinity's president Dr. Rob Mullen, and the school's athletic director Rob Saxton presented a check for $12,000 to Archbishop Joseph E. Kurtz Sept. 19. The money supported Catholic Charities of Louisville's efforts to aid hurricane victims.
Hurricane Irma caused destruction across Florida, including Hialeah, where Champagnat is located.