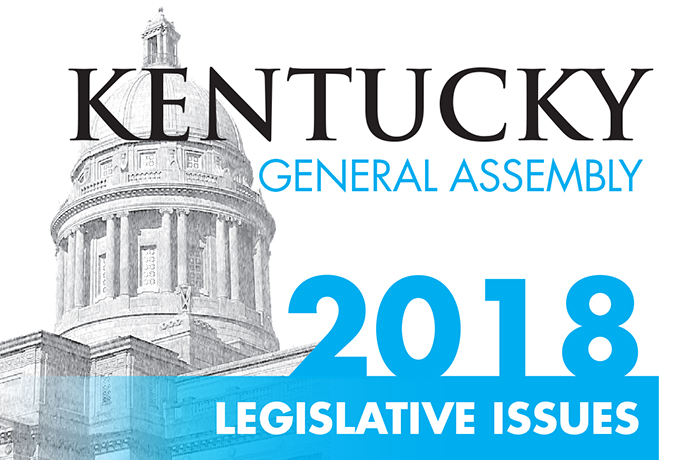 By Marnie McAllister, Record Editor
Catholics concerned about Kentucky policy are invited to attend this year's Catholics @ The Capitol conference on Feb. 13 in Frankfort, Ky.
The Catholic Conference of Kentucky (CCK) — which represents Kentucky's four bishops in matters of public policy — is sponsoring the day-long gathering.
Archbishop Joseph E. Kurtz will open the meeting with prayer at the Capital Plaza Hotel, 405 Wilkinson Blvd.
CCK staff members will discuss issues they've identified as priorities during the 2018 session of the Kentucky General Assembly, which convened Jan. 2.
After the morning presentations, participants who choose to will travel to the capitol to meet with lawmakers and have lunch in the Capitol Annex Cafeteria. The CCK will set up appointments for participants to meet with their lawmakers.
"It's a great way to make contact with your legislator," said Jason Hall, executive director of the CCK. "It's also great to be in a room with other engaged Catholics. It's a great day.
"For people who want to get involved on these issues, we do the heavy lifting," he added.
This year's priority issues include:
Scholarship tax credits
Senate Bill 36 and its companion House Bill 134 seek to create tax credits for businesses and individuals that donate to certain scholarship-granting organizations, such as the Catholic Education Foundation, to provide need-based tuition assistance for non-public schools.
Workplace protections for mothers
The CCK also supports Senate Bill 38, which would require employers to make "reasonable accommodation" for women during pregnancy, childbirth or related medical conditions. The CCK sees the measure as a companion to two bills passed into law in 2017.
"This is a great bill to complement some of the legislation passed last year for life protections," Hall said.
Last year, the governor signed into law a late-term abortion ban and a bill requiring an ultrasound prior to an abortion, which has been struck down by a federal judge.
Hall said that workplace protections for women have "a broad coalition of support, bipartisan support."
Criminal justice reform
Hall hopes to see criminal justice reform measures proposed during the session. The CCK has sought reforms in past sessions that would help those who have fulfilled their sentences to re-enter society. A failed measure supported by the CCK last year sought to remove barriers for ex-felons seeking professional licenses. The bill also prevented people from being imprisoned when they can't pay a court-related cost.
Death penalty
The CCK is supporting Senate Bill 54 and House Bill 155, bipartisan proposals to abolish the death penalty.
"I'm hearing several members saying things like, 'The time is getting ripe to do something about that,' " Hall said. "A lot of freshman House Republicans are interested in it."
State budget
Hall said the CCK will be watching closely as legislators strive to pass a budget.
"We want to make sure we don't solve the state's budget problems on the backs of the poor — those who can least afford it," he said.
Hall added that in addition to these issues, the CCK will also be on the lookout for any proposals that "might be hostile to immigrants and refugees."
Catholics who attend the Catholics @ The Capitol event will hear presentations on these issues and how they relate to church teaching. Participants will also receive written materials on the issues.
To register for the event, visit ccky.org. For more information, contact Karen Chambers at the CCK at 502-875-4345 or kchambers@ccky.org.
Registration deadline is Feb. 6.